MR Vaccine Usage inequality in Kotabaru District
By : Herry Barus And Aldo Bella Putra | Friday, August 31 2018 - 15:00 IWST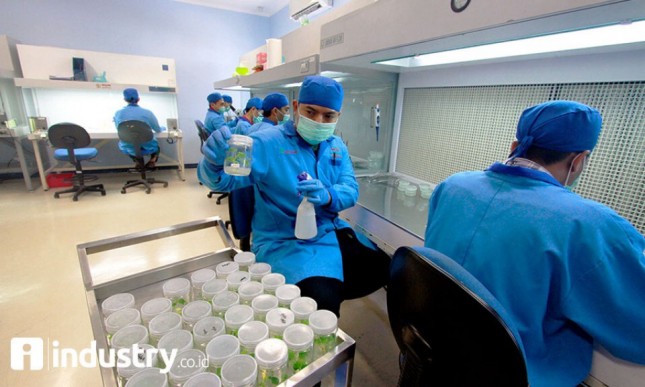 Penelitian vaksin dokter (rino/industry.co.id)
INDUSTRY.co.id - Kotabaru - Kotabaru Legislative tends to be moderate in addressing the measles rubella (MR) immunization program for children which is still a pro and contra for parents.
This is due to the various issues that develop around MR vaccines that make many parents haunted by anxiety, especially regarding the halal of immunization.
Deputy Chairperson of Kotabaru Regional Parliament (DPRD), M Arif in Kotabaru, Thursday (08/30/2018), acknowledged that there was a lack of community diversity in looking at measles rubella immunization.
"This is a government program, but on the other hand, it concerns the beliefs of a majority Muslim community," he added.
As a Muslim, fatma ulama is something important in muamalah because this matter will be closely related to the rules in religion.
Likewise, the issue of MR immunization is suspected to originate from non-halal content, because in its manufacture it comes from non-halal ingredients.
"But from the explanation of the ulama, by referring to the emergency situation, because there is no such vaccine that is made from halal materials, then this is one thing that is permissible," he explained.
But again this is related to one's belief, for those who still do not want something because they think that it comes from non-halal material, it must also be understood and understood.
Therefore, in connection with this matter, the PPP Party politician argued that the implementation of the MR immunization program was carried out by not having to force those who did not agree.
Meanwhile, up to a week of MR immunization carried out in Kotabaru District since it was announced in early August 2018, more than eight thousand children were immunized.
Kotabaru District Health Office (Dinkes) targets 99,669 children aged nine months to 15 years to receive measles rubella (MR) immunization.
"Immunization is carried out for two months from August to September 2018," said Acting Head of the Kotabaru District Health Office, Ernawati.
According to him, in August 2018, immunization was focused on schools ranging from early childhood education to junior high school. Consisting of 307 PAUD and TK, 263 SD, and 79 SMP.
While the number of students who will be immunized is 67,086 people. 12,936 PAUD and kindergarten students were divided into, 38,949 elementary students, and 15,201 junior high school students.
"While the targets outside the school are held in September 2018 with a total of 24,755 children scattered throughout the district," said Erna.
A total of 429 service posts were prepared for the implementation of MR immunization for preschool-aged children. The service post consists of hospitals, puskesmas, pustu and polindes, posyandu, as well as other posts. (Ant)