Increase Penetration of the Fostered SME Market, Bank Mandiri Holds WMM Expo
By : Herry Barus And Aldo Bella Putra | Friday, September 07 2018 - 10:00 IWST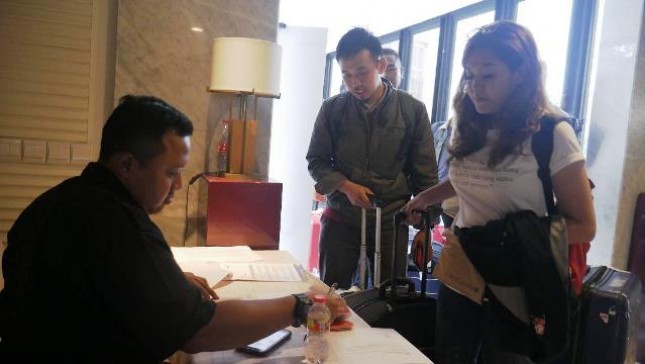 Bank Mandiri Gelar WMM Expo Peserta(Industry.co.id)
INDUSTRY.co.id - Malang, East Java, 6 September 2018 - Bank Mandiri continues to encourage the development of small and medium enterprises (SMEs) built to increase market penetration through product socialization activities. For this reason, Bank Mandiri organized the Mandiri Young Entrepreneurship (WMM) Expo 2018 which was attended by more than 90 local brands at Olympic Garden Mall, Malang - East Java on September 6 - 9, 2018. The local brands are owned by the finalists and alumni of the WMM program, as well as participant of the BUMN Creative House program (RKB).
In this event, a number of creative and innovative products with millennial nuances were offered to visitors, such as Classic Chocolate (the production of young entrepreneurs from Malang), men 's shoes, Men's Republic brand (WMM category 2015 creative champion) and Samarinda Weaving Aemtobe. The target, WMM Expo will be visited by around 10,000 people, with sales transactions estimated at around Rp. 1 billion.
Bank Mandiri Corporate Secretary Rohan Hafas said that the holding of WMM Expo 2018 was a series of Mandiri 2018 Young Entrepreneur Awards, in which the company would give appreciation to students and alumni who had started their businesses and were able to provide added value to the community.
"Through this WMM Expo, Bank Mandiri wants to show commitment in the effort to create young, creative entrepreneurs who are able to compete and can create new jobs through comprehensive programs, ranging from potential young entrepreneurs, business management training, introduction to marketing methods, introduction access to finance and identification of business development opportunities, "said Rohan.
In addition to SME products, the WMM Expo also featured a talkshow program featuring speakers from the WMM Alumni of the previous year, such as Florentia J. Sutanto, fashion brand designer Noonaku Signature (WMM alumni 2016) and Odi Anindito, culinary businessman Coffee Toffee (WMM Alumni 2011)
"Certainly, the speakers at the talk show will share experiences and tips on managing creative businesses. The hope is that this can motivate visitors, especially those who are still in the status of students in order to dare to start a business, "he said.
Rohan continued, the finalists and WMM alumni who displayed their products at the Expo were part of the Mandiri Young Entrepreneur community which had been held since 2007. In total, more than 36,000 young entrepreneurs from 656 universities throughout Indonesia were recorded as part of this community, both as champions, finalists, and participants.
This year, the WMM program competed in several categories, namely the category of Industrial, Trade and Service entrepreneurs; Creative entrepreneurs; Catering entrepreneurs; Social entrepreneurship and Technology entrepreneurship category. The WMM membership is divided into two categories, namely the category of SI students or Diploma and the category of young non-Student entrepreneurs.
"The WMM 2018 entrepreneurship competition has been started since last March, where as many as more than 800 young entrepreneurs from 34 universities and 10 Community / Business Incubators took part in this event. Based on the preliminary judging results, as many as 70 young entrepreneurs were selected to participate in the national selection on 12 September 2018, before a jury consisting of representatives of the government, academics, practitioners, the media and Bank Mandiri, "he said
The highlight of the WMM program series, namely the 2018 WMM Award (WMM Award), will be held on September 15, 2018 at Samantha Krida Building, Brawijaya University, Malang. Hopefully, this event can be attended by President Joko Widodo together with the Working Cabinet ministers, the ranks of Indonesian university leaders, regional officials and more than 1,500 student invitations in the Malang and surrounding areas.
Rohan added, in addition to cash prizes, WMM 2018 program winners also had the opportunity to get various benefits in accessing Bank Mandiri products with varying values ​​and conditions as needed. The Company also seeks to encourage the winners and finalists to protect intellectual property rights related to the business involved so that they can be used optimally as productive assets.
"Especially in the category of Technology entrepreneurs, the winners and finalists also had the opportunity to get assistance and funding from Bank Mandiri's subsidiary companies in the field of venture capital, namely PT Mandiri Capital Indonesia," he said.
Further information regarding the Mandiri Young Entrepreneur program can be seen on the @wrausahamandiri Instagram account, independent young entrepreneur Facebook account and website www.wirausahamandiri.co.id