Gov't to Modernize Cooperatives for Better Adaptiveness and Competitiveness
By : Nata Kesuma | Thursday, July 29 2021 - 20:30 IWST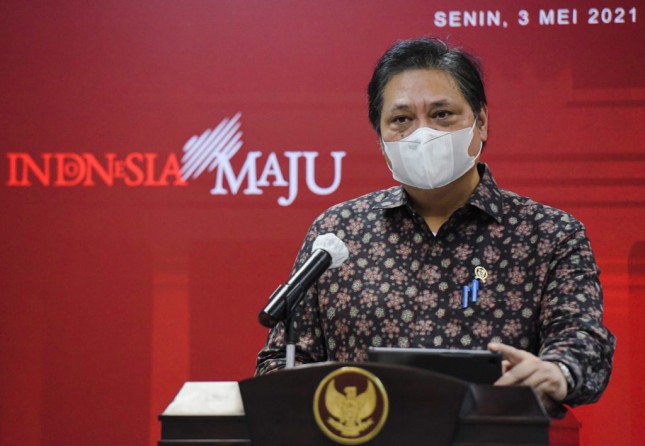 Coordinating Minister for Economic Affairs Airlangga Hartarto
INDUSTRY.co.id - In a bid to revive national economy amid the pandemic, including to keep the businesses of MSMEs afloat and to curb unemployment, the Government has provided stimulus to cooperatives through the Cooperative and MSME Revolving Fund Management Agency.
In the first period of 2020, the stimulus amounted to Rp1 trillion for 63 cooperatives, while in the second period, Rp292 billion was granted for 37 cooperatives.
"The Government has also devised a concept of cooperative digitalization to ease cooperative quality improvement. Amid the pandemic, cooperatives must continue to operate productively and creatively," Coordinating Minister for Economic Affairs Airlangga Hartarto said as quoted from the official website of Coordinating Ministry for Economic Affairs, Wednesday (28/07)/
According to Airlangga, the Government is focused on modernizing cooperatives with good cooperative governance to improve their competitiveness so that they are adaptive to changes, adding that the modernization will be focused on developing multiparty cooperative system, real sectors, partnership facilities, payment facilities, and digitalization.
In the 2020-2024 National Medium-Term Development Plan, the targeted growth of modern cooperatives is 500 cooperative units.
Based on data from Ministry of Cooperatives and MSMEs, as of 2020, there were 127,124 units active cooperatives in Indonesia with a business volume of Rp174 trillion and 25 million members, which showed an increase from 2019.
Regarding the regulation, the Government has also issued Job Creation Law in 2020 to provide ease in developing business and boosting competitiveness, as well as to simplify cooperatives' organizational structure.
In Government Regulation Number 7 of 2021 that serves as an implementing regulation of Job Creation Law, facilities, protection, and empowerment of cooperatives are regulated in details, especially on the stipulation of policies on institutional aspects, marketing, production, finance, innovation and technology, as well as cooperative development in certain sectors through cooperative empowerment in the sectors of marine and fisheries, sea transportation and harbor, forestry, trade, and agriculture.
The Minister also said that a number of Indonesian cooperatives such as Kisel, Koperasi Warga semen Gresik, and Kospin Jasa can compete with foreign cooperatives, adding that cooperatives are not limited to small scale cooperatives but also medium- and large-scale cooperatives.
"This mindset is important to grow the motivation and enthusiasm of our cooperative players, especially Indonesian youths who are starting out and will start cooperatives. I hope cooperatives can play a vital role in national economy," he remarked.