2019 Commencement of Repair of the Trans Kalimantan Central Axis Road
By : Herry Barus And Aldi Firhand. A | Sunday, September 09 2018 - 23:44 IWST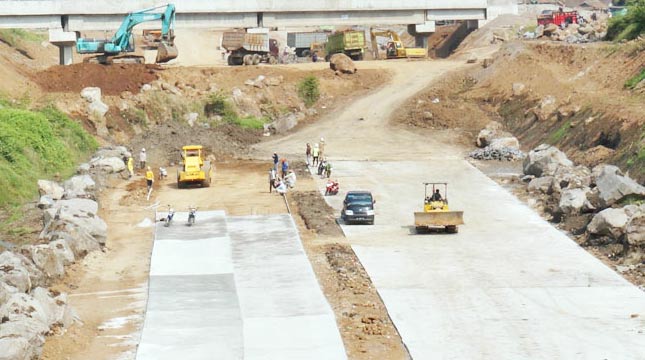 Toll Development
INDUSTRY.co.id - Palangkaraya - Acting Head of Central Kalimantan PUPR Office Salahuddin said the Central Government in 2019 had provided a budget for the improvement of the Central Axis Kalimantan trans road, precisely around Bukit Rawi Village, Pulang Pisau Regency.
The budget information that will be provided by the Center to handle Jalan Bukit Rawi along 3.1 kilometers is around Rp60 billion to Rp70 billion, Salahuddin said when accompanying the House of Representatives Commission V to monitor the condition of Bukit Rawi road, Friday (7/9/2018)
"But we are still struggling so that the budget provided is around IDR 200 billion for the first phase, and IDR 150 billion in the second stage. The funds to complete the handling of Bukit Rawi Road are estimated at IDR 350 billion," he added.
Although more suggesting the handling of Jalan Bukit Rawi in the form of "slap files" or overpasses, Central Kalimantan PUPR still allows the Ministry of Public Works and Public Housing (PUPR) to study related forms that will be used.
Salahuddin said, the condition of the soil structure in Jalan Bukit Rawi is almost the same as that in Pangkoh-Bahaur and Tumbang Nusa. Handling at Jalan Pangkoh-Bahaur uses a form of embankment, but conditions have declined every year, making it less durable.
"Unlike in Tumbang Nusa, the handling of the road uses flyovers. It can last 100 to 200 years. That is why we are more proposing handling flyovers on Rawi Hill. It is definitely safer 100 to 200 years into the future," he said.
According to him, whatever form of treatment was approved and implemented by the Ministry of PUPR, it was not a problem. Because, for the Central Kalimantan Provincial Government how to make Jalan Bukit Rawi no longer flooded when rainfall is high, or the river water is rising.
"Admittedly, the overpass is more expensive than the others. But, it doesn't matter because it's better and lasts longer," Salahuddin said.
Previously, the Chairman and members of the Commission V of the House of Representatives made a working visit and directly monitored the condition of the Trans Kalimantan Central Axis Bukit Rawi road, Pulang Pisau Regency, Central Kalimantan Province, which often experienced flooding in the rainy season.
The visit was also followed by the Directorate General of Highways of the Ministry of Public Works and Public Housing (PUPR), the National Road Implementation Center (BBPJN) XI Banjarmasin Ministry of Public Works and Public Works, Acting Head of Central Kalimantan Public Works and Spatial Planning, as well as officials other. (Ant)