Ensure Energy Supply, PT Jorong Port Development Signs MoU With PT. Pertamina (Persero)
By : Ridwan And Aldi Firhand. A | Wednesday, September 19 2018 - 20:23 IWST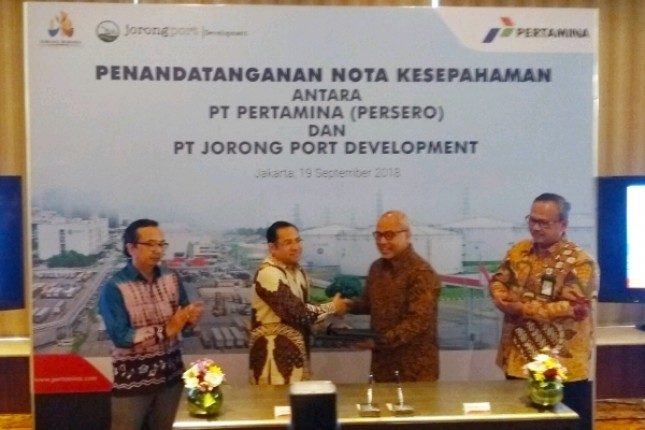 Corporate Marketing Director of PT. Pertamina (Persero) Basuki Trikora Putra together with President Director of PT Jorong Port Development Wishnu Soehardjo when signing the Memorandum of Understanding (Photo: Ridwan / Industry.co.id)
INDUSTRY.co.id - Jakarta, In order to supply the energy needs of the Jorong industrial area, PT. Jorong Port Development (JPD) cooperates with PT. Pertamina (Persero).
The collaboration was marked by the signing of a memorandum of understanding (MoU) between the two parties held at the Head Office of PT. Pertamina (Persero) Jakarta, Wednesday (09/19/2018).
The signing of the MoU was carried out by the Director of Corporate Marketing of PT. Pertamina (Persero) Basuki Trikora Putra together with the President Director of PT Jorong Port Development Wishnu Soehardjo.
In his remarks, Basuki said, this MoU is a form of commitment to the cooperation that we will do in the framework of both parties' business.
"This is the first step to identify what business potential we will develop in the future," said Basuki.
According to him, business development, especially in the provinces of East Kalimantan and South Kalimantan, which overshadow the Jorong industrial area, is growing very rapidly.
"Therefore, the existence of this cooperation will be good for both parties," he explained.
Furthermore, he revealed, this MoU was the first step to good ways to see existing opportunities to be developed and realized.
"We have to work hard to be able to arrange the steps in the future as they are," added the man who is often called Tiko.
Tiko added, especially there (Jorong industrial area) there is already a pier that can be operated this year. Pertamina sees this a good opportunity to develop energy solutions there.
"Through the pier, we (Pertamina) can supply energy, namely fuel, lubricants, LNG, so this is a tremendous force. Therefore, he hopes that this cooperation will be realized soon" said Tiko.
PT Jorong Port Development President Director Wishnu Soehardjo appreciated PT Pertamina (Persero) for accepting us wholeheartedly.
Wishnu hopes that this cooperation can grow the business area of ​​the jorong industry and the economy of the surrounding community.
Previously in January 2018, PT. Jorong Port Development has also established business cooperation with PT. Pertagas Niaga (a subsidiary of PT Pertamina which specializes in natural gas and its derivatives) related to gas supply in the Jorong industrial area.
"We did not expect to be able to cooperate with most BUMNs. For that, we thank you again and hope that this MoU can continue," said Wishnu.
As is well known, the Jorong Industrial Area became one of the 14 national strategic projects (PSNs) outside Java, then also included in the 64 proposed special economic zones (KEK).