878 Formation for High School Graduates, Kemenkumham Opens Recruitment of 2,000 CPNS
By : Herry Barus And Aldo Bella Putra | Thursday, September 20 2018 - 16:00 IWST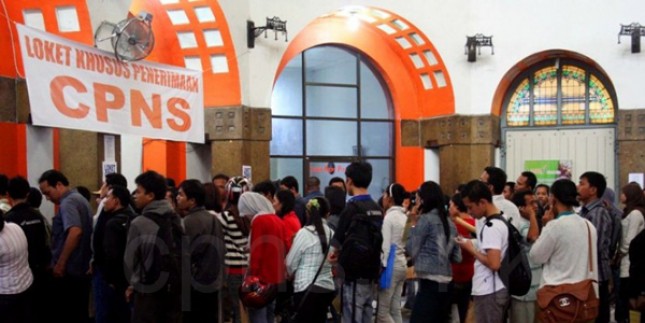 Ilustrasi Pendaftar CPNS
INDUSTRY.co.id - Jakarta, According to the Decree of the Minister of Administrative Reform and Bureaucratic Reform (PANRB) Number 42 of 2018 dated 2018, the Ministry of Law and Human Rights (Kemenkumham) opens recruitment of 2,000 Candidates for Civil Servants (CPNS) in 2018, of which 878 are graduates. Advanced Level (High School).
Secretary General of Kemenkumham as Chairman of the 2018 CPNS Selection Committee, Bambang Rantam Sariwanto, stated in his announcement on September 18, 2018 that the CPNS to be recruited would be placed in the Central Unit and Regional Offices, as well as the Technical Implementation Unit in a number of regions in the country.
The details of the positions and formations that are recruited consist of: 1. Legal Analyst (275); 2. First Expert Policy Analyst (12); 3. Intellectual Property Analyst (17); 4. Institutional Analyst (4); 5. First Expert Staffing Analyst (124); 6. Cooperation Analyst (26); 7. Curriculum and Learning Analysts (2); 8. Supervisory Report Result Analyst (11); 9. Planning, Evaluation and Reporting Analysts (86).
10. First Expert Pharmacist (1); 11. HR Assesor (8); 12. First Expert Auditor (18); 13. First Expert Doctor (2); 14. Assistant Expert Lecturer (11); 15. Custodian State Property (90); 16. Financial Manager (66); 17. First Expert Researcher (12); 18. Data Manager (54); 19. Nutrition Management (2).
20. Financial Manager (144); 21. Program and Activity Managers (4); 22. Script Management (19); 23. Information Technology Manager (77); 24. Prisoner Guard (878); 25. Compilers of Norms, Standards and Criteria (17); 26. First Expert Nurse (4); 27. Institution of First Expert Public Relations (11); 28. Fingerprint Institutions (2); 29. Technicians for Maintenance of Facilities and Infrastructure (20); and 30. First Expert Librarian (3).
The educational qualifications range from high school, DIII graduates to a number of positions, Bachelor Degree (S1) from various study programs; and Starata Dua (S2) for Lecturers and Lecturer Assistants.
The minimum age requirement for participants is 18 years for a maximum of 33 years for D3, S1 and S2 graduates. While high school graduates are at least 18 years old and a maximum of 28 years.
Especially for the position of prison guards there are additional requirements, namely a minimum height of 160 cm (male), and 155 cm (female).
"Registration is done online through the portal http://sscn.bkn.go.id from September 26 to October 7, 2018," the announcement of the Ministry of Law and Human Rights said.
More information about the opening of CPNS recruitment in the Ministry of Law and Human Rights can be seen on the page http://cpns.kemenkumham.go.id.