The Concrete and Construction Industry Exhibition in Southeast Asia Officially Held
By : Kormen And Aldi Firhand. A | Thursday, September 20 2018 - 20:46 IWST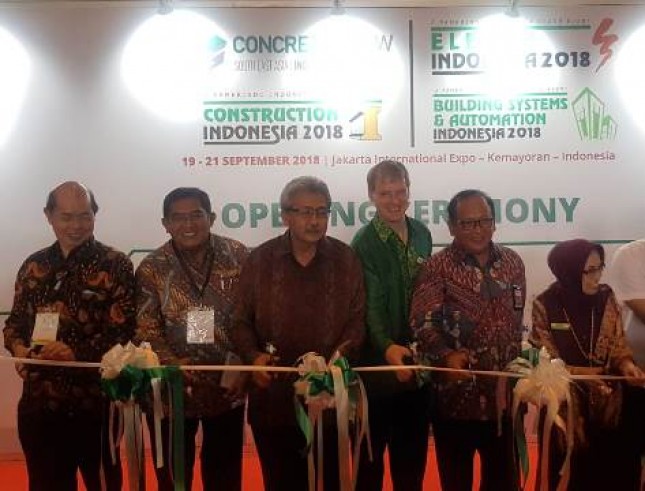 Concrete and Construction Industry Exhibition in Southeast Asia Officially Held (Kormen Photo)
INDUSTRY.co.id - Jakarta - Minister of Public Works and Public Housing (PUPR) of the Republic of Indonesia, represented by the Acting Head of the Research and Development Agency of the Ministry of PUPR of the Republic of Indonesia officially opened the two major trade shows in South East Asia (SEA) 2018 Concrete Show and Construction Indonesia 2018.
Both exhibitions take place from September 19-21 2018 at the Jakarta International Expo organized by PT UBM Indonesia Trade Fair and PT Pamerindo Indonesia, which are the right platforms for players in the concrete and construction industries, both in Indonesia and the Southeast Asia region to expand their network and develop its business, and bring solutions to support government efforts and programs in accelerating infrastructure development in all parts of Indonesia.
Niekke W Budiman - Senior Event Manager, PT UBM Indonesia Commerce Exhibition, said that he was very proud to be able to present the most complete and largest international scale exhibition in Indonesia to support the development of the concrete and construction industry in Indonesia. "Through this exhibition is expected to provide a variety of solutions to industry players that can be maximized by each of the related sectors," he said.
Improved construction and building technology must continue to be developed so that the acceleration of infrastructure development in Indonesia can be achieved and will accelerate the pace of national economic growth.
"The Show SEA and Construction Concrete Exhibition of Indonesia, is expected to be a means of increasing the capacity and quality of construction where all major global players in the industry gather and interact. Domestic industry players can use this exhibition to be able to update information, find solutions and adopt construction technologies that can improve the efficiency and quality of concrete products and construction in Indonesia, "added Niekke W Budiman.
SEA 2018 and Construction Indonesia Concrete Show 2018 will facilitate buyers and suppliers through a variety of products, services and concrete technology and construction such as precast concrete, prestressed concrete, concrete mixers, batching plants, light brick machines, concrete iron technology, construction tools, increasing knowledge industry and engage in special discussions. The South East Asia 2018 and Construction Indonesia 2018 Concrete Show event series for three days of implementation, will also present a variety of activities besides the exhibition as well as Conferences and Seminars by presenting competent speakers in the concrete and construction industries.
SEA 2018 Concrete Show Show also supports the development of human resource (HR) competencies, especially in the construction sector. A number of construction accidents that ended this end, indicate that there is still a lack of attention to the provision of competent human resources in construction. Therefore, in organizing this year's SEA Concrete Show there will be training and certification of production equipment operators and installation of precast and prestressed components organized by the Ministry of PUPR together with the Indonesian Association of Prefabricated and Pre-stressed Companies (AP3I).
In 2018, in addition to organizing SEA Concrete Show in Indonesia for the sixth time and Construction Indonesia entering its 20th year, UBM Indonesia and Indonesian Pamerindo also present the 2018 Indonesia Building Systems & Automation exhibition and 2018 Elenex Indonesia for the first time. . The exhibition will cover the development of the space and building industry, from smart ways to use electricity, intelligent networking, and energy efficiency solutions, lighting innovations, intelligent and automation building systems, smart sensors, security systems, and the latest in REVAC efficiency.
It is projected that more than 14,000 visitors will be present at this event to meet with 425 local distributors and foreign companies from 23 countries or regions that have the latest products and technology to provide solutions and accommodate the needs of each of the concrete and construction sectors.
"Through this four exhibition, it is hoped that later it will be able to bring Indonesia not only to be able to compete better with ASEAN countries but also be able to produce infrastructure projects and intelligent buildings that are of good quality in the development of this country," concluded Niekke. (Kormen)