Amid Rupiah Weakens, Minister of Agriculture Boosts Exports
By : Wiyanto Dan Aldo Bella Putra | Friday, September 21 2018 - 17:00 IWST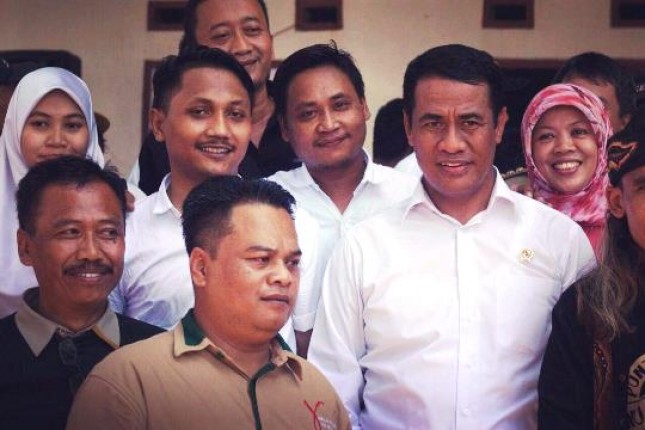 Mentan Andi Amran Sulaiman (Dok Industry.co.id)
INDUSTRY.co.id - In the midst of the recent swift exchange rate against the dollar, Minister of Agriculture (Minister of Agriculture) Andi Amran Sulaiman again boosted the volume of food commodity exports. This time, the Minister of Agriculture Amran released exports of horticultural commodities in the form of 306,000 dracaena ornamental plants set to Asian countries to the Middle East and exported 600 tons of beans and tomatoes to Singapore.
"Our food cannot compete with other countries without technology. Today we prove, thanks to the technological advancements that we produce ourselves, we increase exports again. Exports of horticultural commodities to various countries, "said Amran at the event after releasing exports carried out on Horticultural Spectra activities, Agro Innovation Fair (AIF) on the spot and Floriculture Indonesia held at the Vegetable Research Institute, Lembang, West Java, Thursday (20 / 9/2018).
Amran said Indonesia's agricultural potential is very large to provide food sovereignly, namely without imports. In fact, Indonesia used to import shallots, but since 2017 it has managed to reverse the situation, namely exports to various countries.
Then, recently the Ministry of Agriculture has signed a memorandum of understanding with the Indonesian Chamber of Commerce and Industry (KADIN) regarding the Stabilization of Availability of Food Supply and Acceleration of Agricultural Commodity Exports. Together with KADIN, directly export mangosteen to China and seeds of laying hens to Timor Leste. The destination country for export in the future will continue to be added.
"Therefore, we urge to do a massive export and investment movement to improve national economic growth. The agricultural sector is one of the biggest contributors to economic growth. Even now the price of chili and shallots is stable. Our 2017 food exports are up 24 percent, "he said.
BPS data released on August 6, 2018 shows the contribution of the agricultural sector in contributing to the growth of Gross Domestic Product (GDP) in the Second Quarter 2018 compared to the First Quarter 2018 of 9.93% (q to q). The contribution of the agricultural sector is the highest compared to other sectors such as the company services which only 3.37% and other services only 3.30%.
"We ask next year, increase the research budget, mentoring and training so that more and more quality technological innovations are produced and farmers are progressing. Maybe not everyone knows, we cut costs a lot. "The cost of official travel, seminars and others for the cost of farmers' production facilities," added Amran.
To increase the volume of food exports, Amran also asked to advance the downstream sector. The reason is, if the food industry is growing rapidly and the supply chain is improving, the community will certainly increase its income so that it will prosper.
"One small example of chocolate. If we go to Singapore sad. The price of chocolate is Rp. 19 thousand per seed even though the raw material is from Indonesia. This is the importance of advancing downstream, farmers must prosper. And if you want to be rich, be a farmer. Of the 10 richest conglomerates in Indonesia, 8 are from the food sector, "he said.
However, Amran emphasized in advancing agricultural development, requiring hard work in the face of challenges. Because, not only increases production, but also must be able to create food price stabilization.
"It's hard, the price goes up the agriculture minister is blamed. Likewise the price dropped by the Minister of Agriculture to be bullied. We must be patient, "he said.
Amran further asserted that if there were employees of the Ministry of Agriculture who were corrupt, he would not play games to give severe sanctions because corruption is a major obstacle in realizing agricultural development that is welfare of farmers.
"I'm not playing games. I libas. He said there was Rp 1.6 trillion in corruption staff. I affirm, let alone that value, I fired Rp 150 million. So don't play games, there is no room for playing with the fate and interests of farmers, "he said.
Please note, at this Horticulture Spectrum event, Ministry of Agriculture not only exports, but also distributes 24 tons of shallot seeds, 26 tons of potato seeds, 20 tons of garlic seeds, 16,700 polybags of fruit seeds (mango, mangosteen, durian, jengkol, and bananas) and 8,000 polybags of orange seeds to farmers for free.
These seeds are superior seeds from the technological innovations of the Agricultural Research and Development Agency produced in 2017 Fiscal Year.