ZALORA Launches Inaugural Southeast Asia TRENDER Report
By : Krishna Anindyo | Thursday, December 03 2020 - 13:15 IWST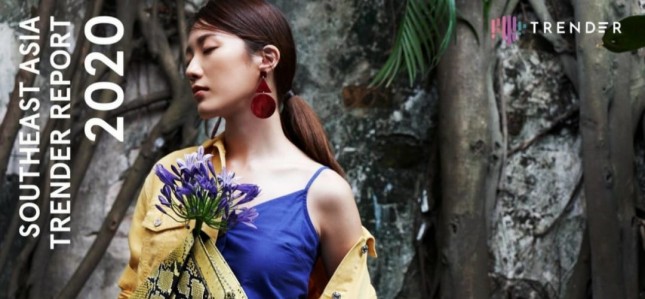 Southeast Asia TRENDER Report 2020
INDUSTRY.co.id - Singapore – As the leading fashion and lifestyle e-commerce platform in Southeast Asia, ZALORA has launched its inaugural Southeast Asia TRENDER Report to help industry stakeholders better understand and navigate during the current turbulent times.
Driven by data and insights from its proprietary analytics platform, TRENDER, the report examines the impact of changing industry trends, and recalibrates perspectives and strategies to help companies navigate the challenges brought on by COVID- 19.
The report comes at an opportune time, when the retail industry is still grappling with the impact of mass lockdowns and social distancing measures, whilst managing the challenges that come with the accelerated move online. Many businesses are also identifying and adapting their strategies and operations to keep up with evolving consumer behaviour and trends, as a result of the pandemic.
Written in a magazine-style format, a representation of how 'Data meets Fashion', the digital edition features links to video interviews from industry contributors to offer readers a practitioner's guide, in addition to providing their insights on the topics tackled in the report.
The official launch, which took place via a live webinar, offered a deep dive into the report's key findings, including:
- E-commerce acceleration is here to stay: The onset of COVID-19 has accelerated the adoption trends for commerce and digital payments as more people in the region embrace online shopping during this period. In fact, it was cited that three out of four consumers in Singapore plan to maintain their current online shopping levels well after the pandemic subsides. ZALORA has been seeing strong acceleration in their New Customer acquisition, with the company's Q2 financial results recording the share of revenue that was more than double across its various operating geographies.
- The Future is YOUNG and FEMALE: Women in Southeast Asia contribute to 80% of all household purchases, outshopping men by 20%, and spending 40% more time on online retailers. This is reflected in 80% of ZALORA shoppers being women as well. The region is home to over 200 million Millennials and Gen Zs, who are expected to comprise the largest shopping base in the years to come as they reach mid-20s and attain higher disposable incomes.
- Fashion and lifestyle categories have shifted: Though hard hit by the pandemic, fashion demand did not disappear. Instead, the demand shifted, with the demand for categories such as sports and activewear, loungewear, children's wear, beauty and home and living surged, alongside health and hygiene products. Triple digit growth is seen across these categories in the last two quarters. For example, in the recent 10.10 sales campaign, ZALORA saw a 400% increase in the children's wear category, and 220% in the beauty category.
- Making and delivering sustainability commitments is key: With sustainability becoming more than just a lifestyle, consumers today are not just demanding for variety, but also for the longevity of businesses' commitments. The report shared that 90% of customers who took part in ZALORA's survey presented some level of interest in shopping for sustainable products, with more than 50% willing to pay a premium for such items.
- Immersive commerce is the future: Bridging the gap between the offline and online experience is a must for every brand and retailer – from payments to brand experience and potentially augmented reality. We have also seen how effective the use of content in commerce can contribute to increased sales. The report cited a case study on ZALORA's /COVERS project which saw a 240% order uplift in the hero products featured.
- Cash is starting to lose its throne: While cash payments continue to be preferred over e- payments in Southeast Asia due to low user confidence, the region is seeing the latter's emergence due to an acceleration of digitisation. With 250 million smartphone users in the region, e-wallets are fast replacing conventional banking methods. For example, 49% of urban commercial bank customers within the region are already using e-wallets.
The webinar also featured a panel discussion by industry experts, including Gunjan Soni, Chief Executive Officer, ZALORA Group; Ettore Strapazzon, Lead for TRENDER, ZALORA Group; Samuele Saini, Sector Lead of Apps, E-Commerce and Entertainment, Google SEA; and Warren Hayashi, President, Ayden Asia Pacific, who shared their predictions on the future of the industry, as well as suggestions on ways to connect with the "new consumer".
"This has truly been an unprecedented year for fashion and lifestyle retail, with businesses everywhere deeply affected by movement restrictions and disrupted supply chains. Uncertain times need more decisive action, but leaders face challenges in accessing reliable consumer data as all past patterns come breaking down," said Gunjan Soni.
"This is why we decided to harness our internal data via TRENDER, and are working closely with our valued partners to provide deeper insights into issues such as consumer buying behaviour, geo segmentations, as well as assortment. We hope that this report will be able to serve as a north star in helping players in the ecosystem better understand the evolving landscape, and be able to plan strategically for 2021 and the years beyond. I am very thankful to our valued contributors from Google, Adyen, Abercrombie & Fitch, Shiseido and Style Tribute, as their input added valuable perspectives and insights to our inaugural report," Gunjan Soni added.