Sumber Sawitmas Sarana Creates Salat Island into Orang-Utan Conservation
By : Abraham Sihombing | Monday, May 03 2021 - 19:00 IWST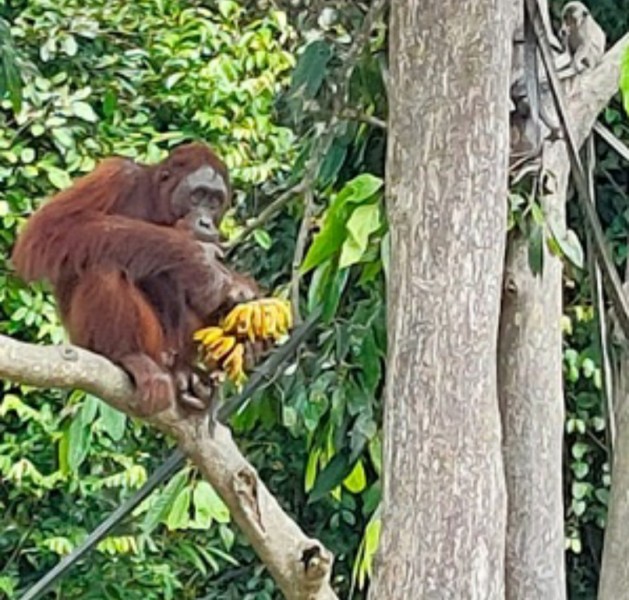 One of the sightings of an orangutan occupying a natural conservation area built by PT Sawit Sumbermas Sarana Tbk on Salat Island, Pulau Pisau Regency, Central Kalimantan. (Photo of Sawit Sumbermas Sarana Public Relation)
INDUSTRY.co.id - Jakarta - Salat Island is an island located in Pulau Pisau Regency, Central Kalimantan. In Pilang Village, which is located on the island, Haji Abdul Rasyid, the owner of the oil palm company PT Sawit Sumbermas Sarana Tbk (SSMS) is serious about to develop 2,000 hectares of land for orangutan conservation. For this reason, he collaborated with the Borneo Orang Utan Survival Foundation (BOSF).
In a video shown to the media on Salat Island on Friday (30/04/2021), the national entrepreneur from Central Kalimantan showed his enthusiasm for developing the orangutan conservation area. He also invited other entrepreneurs to take part in preserving the environment and the living things contained in it as a legacy for future children and grandchildren.
"As an entrepreneur, we don't just pursue profit, but do good matters to others while ensuring that the surrounding environment is maintained and also needs to be developed. As a businessman from Central Kalimantan, I am committed to preserving the environment in the area where I was born. This is the principle of my life, "said Abdul Rasyid.
Meanwhile, the CEO of SSMS, Vallauthan Subraminam, revealed, that Abdul Rasyid is very serious about realizing environmental conservation. The man who was born in Johor, Malaysia, 66 years ago explained about the company's involvement in environmental preservation. That means, the environmental conservation activity is in line with the owner's vision and mission of the company that he has chaired since 2016.
Valla said, that environmental preservation is not merely carrying out the company's obligations in a sustainable manner, but it has become the policy of Abdul Rasyid as the owner of Citra Borneo Indah (CBI) Group and PT Sawit Sumbermas Sarana Tbk (SSMS).
"Pak Rasyid does not want the management to run the company just for the sake of making a profit. Companies must also be able to protect the environment, to meet the future needs of the next generation, "added Valla.
Andre Taufan Pratama, the Corporate Communications Manager of SSMS, said that the company has completed the best things to become a part of the environmental conservation solution.
"This partnership program is part of the approved Roundtable on Sustainable Palm Oil (RSPO) Remediation & Compensation Program (RaCP). In the implementation, SSMS provides forest land as a form of compensation as required by the RSPO, "said Andre on Monday (03/05/2021).
Salat Island is ideal for natural conservation, consisted of natural forest areas and isolated forests in Pulang Pisau Regency, the Central Kalimantan, with an area of 1,437.7 hectares (Ha) of the total permit owned by SSMS of ± 2,400 hectares (plus a BOSF location permit covering 800 hectares. Ha). Andre noted that the total number of orangutans who once inhabited Salat Island reached 93 individuals.
Meanwhile, Agus Darmanto, Assistant Manager for Conservation of SSMS, added that Salat Island is currently inhabited by 40 individual orangutans, 10 of which are unreleasable and 30 are releasable. All of them are scattered on Badak Besar and Badak Kecil Islands which are part of Salat Island. The Badak Kecil Island is specifically designated as a sanctuary for orangutans that cannot be released back into their natural habitat. The rest, 10 individuals live on Badak Kecil Island.
As a conservation area, Salat Island is only a kind of area to forge orangutans before they are ready to be released into the National Park. Till 2021, there are 24 orangutans from Salat Island have been released into their natural habitat in the Bukit Baka Bukit Raya National Park, Katingan Regency, and the Bukit Batikap Protected Forest in Murung Raya Regency.