Gov't to Encourage Increased Exports of Agricultural Commodities
By : Nata Kesuma | Thursday, May 06 2021 - 05:01 IWST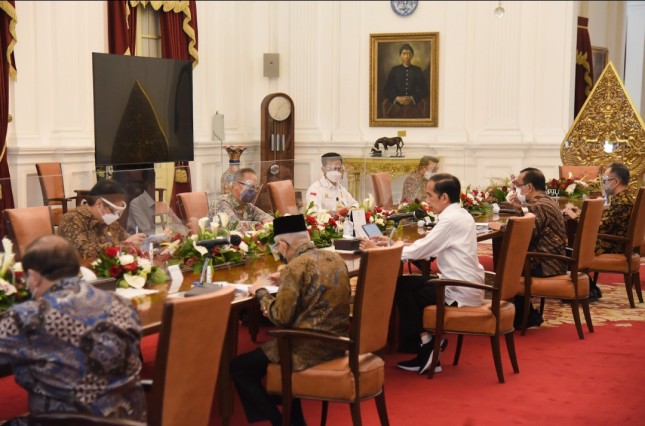 President Jokowi chairs a Limited Meeting on the development of swallow's nests and porang plant cultivation, Wednesday (04/05), Jakarta. (Photo by: PR of Cabinet Secretariat/Agung)
INDUSTRY.co.id - Ministry of Trade announced that it will cooperate with Ministry of Agriculture to encourage an increase in exports of swallow's nest.
"We will synchronize the regulations between Ministry of Agriculture and Ministry of Trade. We will make an effort to promote our exports, to get the best results for our farmers, for the domestic industry," Minister of Trade stated after a Limited Meeting on the development of swallow's nests and porang plant cultivation, Wednesday (04/05), Jakarta.
Indonesia, according to the Minister, is the world's main producer of swallow's nests. "Indonesia is responsible for almost 80 percent of the world's production," he said.
In 2020, Indonesia's exports of this commodity reached around 1,316 tonnes with a value of US$540 million. However, Lutfi disclosed, there is an extraordinary price disparity for this commodity. This is due to the different pricing in each main destination country.
"For example, in Hongkong, where we sell almost more than 85 percent of our exports, the price per kilogram is only US$80, meanwhile the price per kilogram in China is more than US$1500," he said.
President Joko "Jokowi" Widodo, the Minister stated, has ordered his administration to ensure that Indonesia gets the best price for this commodity.
"We will work together, (on the meeting) led by the President, Ministry of Trade will streamline the export licensing processes and ensure that we will get the best price for the swallow's nests," Lutfi said.
After his working visit to China, a commitment to buy the commodity with a total value of Rp16 trillion managed to be obtained. "Today, the figure reached half of the total value and we will pursue our target by the end of 2021," he said.
On porang plant, the Ministry will cooperate with Ministry of Agriculture and Ministry of Industry to encourage increased exports of the products. "We will work together. Ministry of Agriculture work in the upstream, Ministry of Industry will work on the processing, and Ministry of Trade will sell them on the world's market," he said.
For the record, porang plant is a substitute product for wheat flour and is considered healthier.