Gov't to Complete Cibitung – Cilincing Toll Road Section This Year
By : Nata Kesuma | Friday, May 07 2021 - 21:33 IWST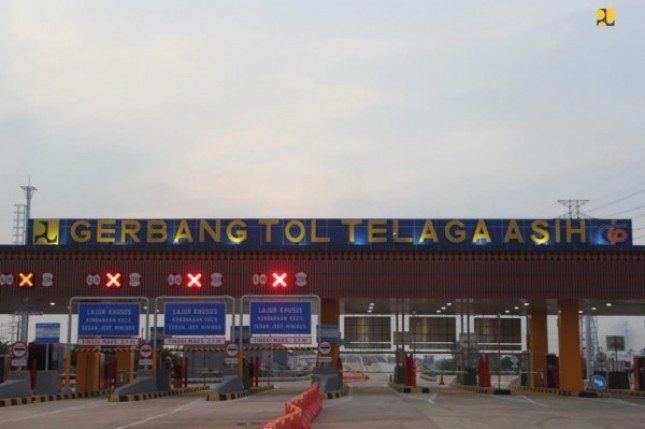 Toll Gate ilustration
INDUSTRY.co.id - Ministry of Public Works and Public Housing (PUPR) and the Toll Road Business Entity (BUJT) continue to complete new toll roads, one of which is the 34-kilometer Cibitung – Cilincing Toll Road, which is included in the National Strategic Projects (PSN).
This toll road consists of four sections with the overall construction progress having reached 85.38 percent and is targeted to be completed soon in 2021. The Cibitung – Cilincing toll road will complement the road network in the Jakarta – Bogor – Depok – Tangerang – Bekasi (Greater Jakarta) area.
The Greater Jakarta area currently has inner and first outer ring roads (JORR 1) and soon will have the second outer ring road (JORR 2) which is currently under construction.
Head of the Ministry's Public Communication Bureau Krisno Yuwono said that the Cibitung – Cilincing Toll Road will connect the industrial area in Cikarang with the Tanjung Priok Port.
"Moreover, it also provides support for smooth mobility for the public and logistics, especially towards the Cibitung and Cilincing industrial areas," he explained, quoted from the Ministry's website, Wednesday (6/5).
Meanwhile, representative from the Ministry Mahbullah Nurdin explained that of the four planned sections, Section 1 has tested the proper function.
"The total investment value is around Rp12.9 trillion for a total of 4 sections. Particularly for section 1, the feasibility test has been carried out, leaving only minor work. After the feasibility test is complete, it can be operated immediately," said Nurdin.
The toll road construction is being carried out by BUJT PT Cibitung Tanjung Priok Port Tollways with PT Waskita Karya and the supervisory consultant of PT Virama by SMEC Denka.
President Director of PT Cibitung Tanjung Priok Port Toolways Thorry Hendarto said that to date, the progress for Section 1 SS Cibitung – Telaga Asih (2.65 kilometers) has reached 99.72 percent.
"Hopefully, after Eid al-Fitr the finishing process for minor work section 1 is completed so that it can start operating in June 2021, the physical construction has been completed," said Thorry.
Furthermore, Thorry added that the progress for Section 2 of Telaga Asih – Muara Bakti (10.1 kilometers) has reached 98.06 percent, Section 3 Muara Bakti – East Flood Canal (14.35 kilometers) has reached 91.86 percent, and Section 4 Canal East Flood – Cilincing (7.2 kilometers) has reached 58.78 percent.
"Sections 2 and 3 are targeted to be completed by the end of October and the rest of section 4 by the end of December this year. We are optimistic that it will be completed if the land acquisition process in the remaining 1.6 kilometers can be completed in the next 2 months," he said.
Thorry went on to say that the operation of this toll road will complement the JORR 2 network, and it can also reduce travel time, especially from East Jakarta to North Jakarta area.
"From Cibitung to Tanjung Priok, normally it takes about an hour or more via Jakarta-Cikampek toll road and the inner-city toll road, while this new toll road will cut the travel time half of it," he said.
The 109.57-kilometer JORR 2 toll road network from Soekarno Hatta Airport, Cinere, Cimanggis to Tanjung Priok Port consists of 6 sections. A total of 3 sections have been completed, namely Cengkareng-Batu Ceper-Kunciran (14.19 kilometers), Kunciran-Serpong (11.19 kilometers), and Serpong-Cinere (10.1 kilometers).