Gov't Takes Anticipatory Measures for Spike in COVID-19 Cases
By : Nata Kesuma | Tuesday, May 11 2021 - 23:00 IWST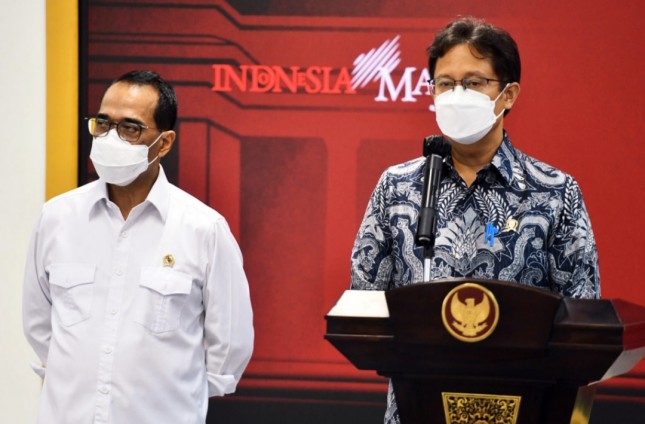 Minister of Health Budi Gunadi Sadikin and Minister of Transportation Budi Karya Sumadi deliver a press statement after attending a Limited Meeting, Jakarta, Monday (10/5) (Photo by: Public Relations of Cabinet Secretariat/Rahmat)
INDUSTRY.co.id - Ministry of Health has announced it is preparing anticipatory measures regarding the availability of hospital beds, medicines, and other healthcare facilities to deal with a possible spike in COVID-19 cases following this year's Muslim holiday of Eid-al-Fitr (lebaran).
Minister of Health Budi Gunadi Sadikin made the statement during a press statement after attending a Limited Meeting on COVID-19 Pandemic Handling chaired by President Joko "Jokowi" Widodo, Jakarta, Monday (10/5).
"Eid is coming. It is our duty to prepare for the worst situations. I feel and hope that InsyaAllah, the increase in transmission cases won't be happening but if it will, we'd like to anticipate it so that we will not be surprised and healthcare facilities are sufficient," he said.
The Minister of Health revealed that nationally the availability of treatment beds reached around 390 thousand, as many as 70 thousand beds are prepared for isolation beds for COVID-19 patients.
Meanwhile, the availability of beds in the Intensive Care Unit (ICU) reached 22 thousand beds, as many as 7,500 beds are allocated for COVID-19 patients.
"I just want to describe that our bed capacity in both hospital and ICU is still three times larger than bed and ICU capacitythat we provide for COVID-19. As many as 70 thousand beds designated for isolation beds, while 7,500 beds designated for ICU for COVID-19," the Minister said.
Out of all allocated beds provided for COVID-19 patients, he said, there were a total of 23 thousand isolation beds and 2,500 ICU beds filled by COVID-19 patients.
"We have made preparations. I pray those prepared beds won't be used and remain unfilled with patients," Budi stated.
On that occasion, the Minister also reminded that the occupancy rate that has been mentioned earlier is based on the national aggregate figure. Every province should see the detailed figure clearly.
"The bed occupancy rate in several provinces is actually higher. This is our concern at both the central and regional governments," he said.
To that end, Budi called on regional heads, especially those with a high bed occupancy rate, to be alert and remind the public of the importance of discipline in implementing health protocols as well as monitor the readiness of hospitals in their respective areas.
"There are 8 provinces with the highest bed occupancy rate for isolation beds and ICU beds, including North Sumatra, Riau Islands, Riau, South Sumatra, Jambi, West Kalimantan, Lampung, and East Nusa Tenggara. We must remain vigilant and careful. We must remind each other so we can protect this," he added.
Budi further said that the Ministry also continually maintains the availability of medicines for COVID-19 handling.
"We maintain the availability of 4 important types of medicines. We still have sufficient medicines and we can redistribute these medicines to regions with a lack of medicines. Thus, we have observed that some areas in Sumatra and Kalimantan still have insufficient stocks of medicines. We still have time to fill the availability of medicines before Eid. At the end of his press statement, the Minister asked government officials in the regions to continually monitor the readiness to anticipate a spike in COVID-19 cases. "Therefore, the message I can convey here is we seek for assistance. Those at regional governments are expected to monitor and prepare hospitals, medical devices, doctors, and health workers," he said.