President Jokowi Tells Regional Leaders to Monitor COVID-19 Handling Parameters in Regions
By : Nata Kesuma | Wednesday, May 19 2021 - 18:53 IWST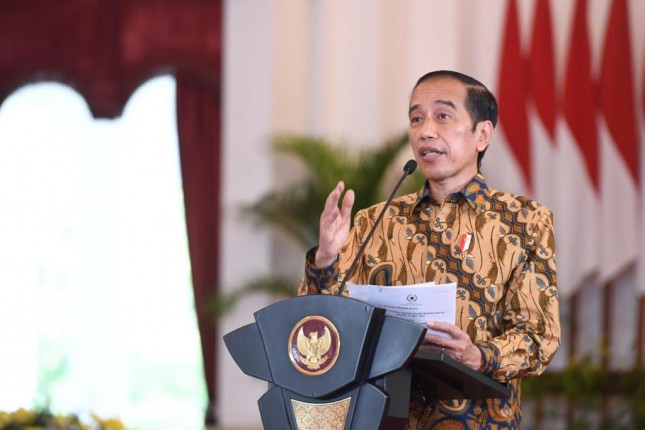 President Jokowi gave directives on COVID-19 handling (17/05/2021). (Photo by: Press Media and Information Bureau of the Presidential Secretariat/Lukas)
INDUSTRY.co.id - President Joko "Jokowi" Widodo Monday (17/05/2021) ordered all regional heads all over Indonesia to periodically keep monitoring COVID-19 handling parameters to immediately take quick and appropriate tactical actions in anticipating the spike of the cases in the regions.
On several previous occasions, according to the President, the spike of COVID-19 cases occurred after long holidays.
"I order all Governors, Regents, Mayors, Military Regional Commands (Dandim), Military Resort Commands (Danrem), Regional Police Chiefs (Kapolda), Resort Police Chief (Kapolres), Prosecutor's Office Heads (Kajati/Kajari), Regional Secretaries, and assistants to be aware of these parameters in each regions so that we all know what to do," President Jokowi told regional heads online from the State Palace in Jakarta.
According to the President, it is reported that during this year's Eid holiday 1.5 million people or 1.1 percent of Indonesia's total population violated homecoming (mudik) ban from 6 -17 May 2021. For the record, before the Government issued the mudik ban policy, 33 percent of the public had expressed their intention to participate on the mudik during Eid holiday.
However, after the Government called on the public to not go on the mudik, the number dropped to 7 percent and after the Government implemented the policy, the number of the mudik participants can be pushed up to 1.1 percent. 1.1 percent, the President added, seems a small number but if the percentage is converted to number or 1.5 million people, it is still a huge number.
On that occasion, President Jokowi said that he had noticed increase in cases of COVID-19 transmission in fiften provinces, namely Aceh, North Sumatra, West Sumatra, Riau, Jambi, Bangka Belitung Islands, DKI Jakarta, Maluku, Banten, West Nusa Tenggara, North Maluku, Central Kalimantan, Central Sulawesi, South Sulawesi, and Gorontalo.
In addition, pandemic parameters can be counted from the ratio of the bed occupancy rate (BOR) in hospitals. While expressing hopes that the pandemic can be well handled, President Jokowi said that the Government has set the target of the ration of the BOR reach below 50 percent in each region.
In the meantime, the National BOR nationally has reached at 29 percent, meaning that the number of patients who need hospital treatment is decreasing. Nevertheless, there are also regions with higher BOR compared to the National BOR, namely North Sumatra (56 percent), Riau Islands (53 percent), and Riau (52 percent).
Therefore, each regional head has to raise awareness, the President said. The Head of State further said that Kemayoran Athlete Village in Jakarta, which functions as an emergency hospital for COVID-19 patients amid the pandemic, has also recorded a decrease in the BOR.
"In September 2020, the BOR reached above 90 percent. But now, this morning I received information that the BOR in Kemayoran Athletes Village Wisma has decreased to 15.5 percent," he remarked.