COVAX Virtual Meeting: Foreign Minister Pushes for Vaccine Production Increase
By : Nata Kesuma | Thursday, May 20 2021 - 15:30 IWST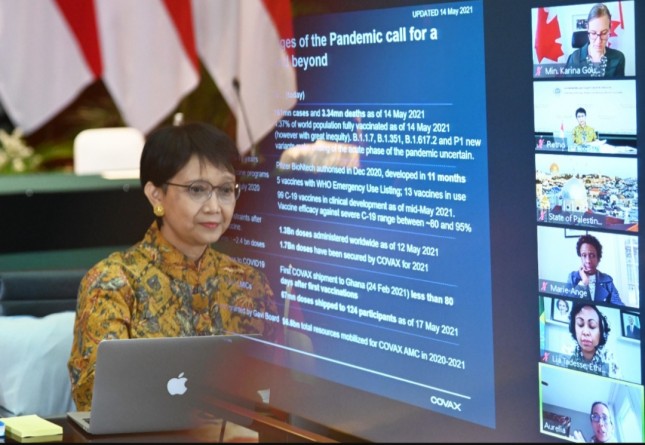 Virtual COVAX-AMC EG meeting led by Minister of Foreign Affairs Retno L. P. Marsudi (17/05/2021). (Photo by: PR of Ministry of Foreign Affairs)
INDUSTRY.co.id - Efforts to double vaccine production capacity as well as supporting vaccine patent waivers are crucial in the fight against the pandemic, according to Indonesian Minister of Foreign Affairs Retno Marsudi.
The Minister made statement during the opening of the 4th Virtual COVAX Advance Market Commitment Engagement Group (COVAX-AMC EG) Meeting on Monday (17/05/2021).
Some of important issues discussed during the meeting were about vaccine supply and distribution updates, funding and investment opportunities, vaccine distribution support, efforts to build public trust in vaccines, and the COVAX Facility strategy in 2022.
As for supply and distribution of vaccines, the meeting raised the issue of delay in supplying vaccines under the COVAX Vaccine Facility.
Based on the initial commitment, only 18 percent of AstraZeneca vaccines produced by Indian biotechnology and biopharmaceuticals company Serum Institute of India (SII) have been delivered and only around 50% of AstraZeneca vaccines produced by South Korean biopharmaceutical company SK Bioscience have been delivered.
This current condition is expected to improve by the end of this year.
Until now, the COVAX Facility has held a supply commitment for 1.7 billion out of 2 billion doses of vaccine needed to be distributed all around the world this year.
In addition, 67.3 million doses of vaccine have been delivered under THE COVAX Facility to 124 countries. 85 percent of the countries have secured the first batch of the vaccines.
Vaccine distribution was also another highlight of the meeting.
Retno stressed that the global vaccine distribution remains unequal amid COVID-19 pandemic, adding that only 0.3 percent of the available vaccine supplies are currently delivered to low-income countries.
"Immediate measures are needed to ensure equal access to vaccines as long as there are still other countries affected by COVID-19," she said.
Another discussed was funding.
The fund that has accumulated reaches USD 6.6 billion out of USD 8.3 billion needed. It is expected that the rest of the funding will be achieved in the future, especially during the AMC Summit to be held with the vaccine alliance Gavi and Japanese Government in June thisyear.
The last issue discussed was efforts to improve public trust in vaccines.
Participants of the meeting underscored that not only Government, but also the support and active participation from various parties play an important role to improve public trust. Valid data and professional public communication strategies are also believed to be a vital key to improve public trust.
Also joining the opening ceremony were Ethiopian Health Minister Lia Tadesse and Canadian International Minister Karina Gould.