President Jokowi Inspects Pekanbaru – Bangkinang Toll Road Project
By : Nata Kesuma | Thursday, May 20 2021 - 21:13 IWST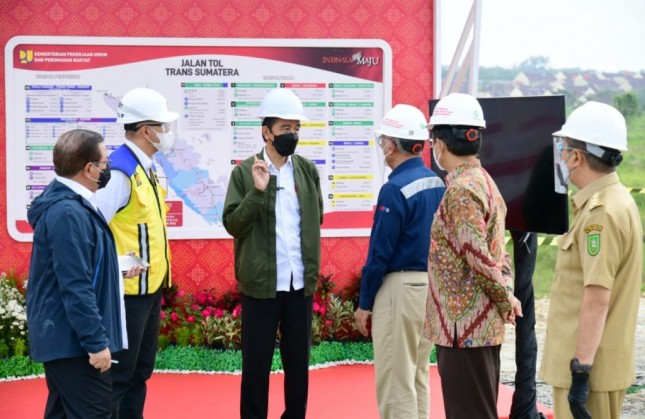 President Joko "Jokowi" Widodo inspected the construction of the Pekanbaru – Bangkinang toll road Riau province, Wednesday (19/5), (Photo by: BPMI Setpres/Muchlis Jr)
INDUSTRY.co.id - As part of the working visit to Riau province, President Joko "Jokowi" Widodo Wednesday (19/5) inspected the construction of the Pekanbaru – Bangkinang toll road.
The 40-kilometer toll road is located in Kampar regency and is one of the sections of the Pekanbaru – Padang toll road, which is included in the Trans Sumatra toll road network.
"This Pekanbaru – Bangkinang section later on will be extended to West Sumatera provincial capital of Padang. The toll road has been constructed for about 40 kilometers and we hope the infrastructure will continue to expand," he said.
To date, the land acquisition process has reached 60.70 percent, while the construction process itself has reached 65.60 percent.
The construction is targeted for completion in December this year.
The construction work for this toll road section is carried out by local subcontractors which involve a cash-intensive program that is able to provide employment for 5,800 workers.
On that occasion, the Head of State expressed hope that the increasing number of toll roads in the country will boost the speed of goods and people movement between regions.
"Once again, with the operation of many of toll road sections, we hope the mobility of goods and people can be accelerated and we can boost our competitiveness against other countries," the President said, adding that the toll road will be able to boost mobility and competitiveness of products produced by Riau province and West Sumatra province in particular.
Citing data from the website of Ministry of Public Works and Public Housing, the Pekanbaru – Padang toll road, which spans 254 kilometers, is a supporting corridor or a fin of the Trans Sumatra toll road.
This toll road is included in the national strategic projects as stipulated in Presidential Regulation Number 109 of 2020 on the Third Amendment to Presidential Regulation Number 3 of 2016 on Acceleration of Implementation of National Strategic Projects.
This toll road is divided into six sections, namely Section I Padang – Sicincin, Section II Sicincin – Bukittinggi, section II Bukittinggi – Payakumbuh, Section IV Payakumbuh – Pangkalan, section V Pangkalan – Bangkinang and section VI Bangkinang – Pekanbaru. Overall the Pekanbaru – Padang toll road is targeted to operate in 2025.