SEA's Largest Glass Company to Launch Groundbreaking at Batang Industrial Zone
By : Nata Kesuma | Monday, May 24 2021 - 19:06 IWST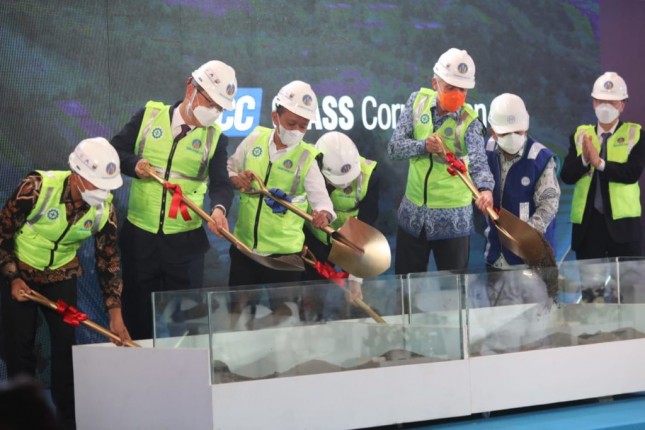 Groundbreaking of PT KCC Glass Indonesia at the Batang Integrated Industrial Zone, Central Java province, Thursday (20/5). (Photo: PR of Central Java Provincial Government)
INDUSTRY.co.id - The Government Thursday (20/05) kicked off the groundbreaking of Southeast Asia's largest glass company PT KCC Glass Indonesia.
The company is located at Batang Integrated Industrial Zone (KIT) in Central Java province.
"On 30 June 30 2020 we, together with the President, opened the zone and on 20 May 2021 or eleven months afterwards, the first phase of the construction of the zone was completed and today we are witnessing the company's groundbreaking. This is a very extraordinary work," said Minister of Investment Bahlil Lahadalia on site.
The South Korean company is the first investor to conduct groundbreaking in this Government-Ministry of State-Owned Enterprises joint cooperation's industrial zone. Bahlil added that of the 450 hectares allocated in the first stage of the KIT, all of them have been filled by investors and the second stage of development will be carried out.
"This is a comprehensive step that we will take," he said.
PT KCC Glass Indonesia is projected to become the largest glass company in Southeast Asia with the investment value reaching around Rp5 trillion. The company which will occupy an area of 49 hectares in the zone is also expected to provide employment for 1,200 people.
On that occasion, Bahlil called on investors in the Batang KIT to involve local business actors in Central Java, especially in Batang regency in order to boost equitable economic growth. Meanwhile, Governor of Central Java province Ganjar Pranowo expressed appreciation for the cooperation of various parties in realizing the Batang KIT.
"I would like to thank everyone involved in this project. This is a good collaboration between the Central, regional governments and other parties, including PTPN, which plays a big role here," said Ganjar.
The construction of the first company in the industrial zone, Ganjar added, will be a good start for economic growth in Central Java. Moreover, he pointed out, this strategic area only takes no more than a year to build and he will continue to oversee the development of this area.
The Governor went on to say that the provincial government would also continue to make efforts to attract investors to do business in the province.
"We are committed to immediately accelerating more investment, either in Batang regency or elsewhere in Central Java," he said.
Previously, President Joko "Jokowi" Widodo during his inspection to the area said that the KIT would later be leased by multinational companies that are relocating and investing to Indonesia.
Apart from KCC Glass Corporation, a number of multinational companies are reported to have been committed to investing in the region, such as South Korean battery company LG Chem, Dutch plastic pipe manufacturer Wavin, and Indian ceramic company Abroad Vitrified.
The Government has prepared approximately 4,300 hectares of land for area development. In the first phase, 450 hectares are prepared to build three zones, namely manufacturing and logistics, innovation and creative economy, and light and medium industries. This industrial area was developed as one of the industrial development in Indonesia.
It is expected to provide the widest job opportunities for at least 250 thousand local workers. Furthermore, the area is also expected to attract an investment of Rp41.8 trillion in the first phase, as well as a priority program to support national economic recovery.
"We hope that this will provide as many job opportunities as possible and there will be an inflow of capital into our country which in the end will drive our national economic growth," the President said.
The Head of State also emphasized that he would always monitor the development of the area regularly as it serves as a pilot project for similar industrial areas that will later be developed both in and outside Java island.