Cabinet Secretariat, South Korea's MOLEG Holds Seminar on Statutory Interpretation
By : Nata Kesuma | Friday, May 28 2021 - 17:10 IWST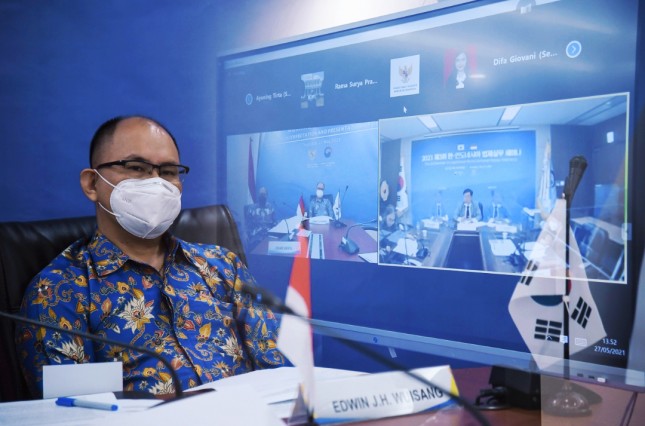 Assistant to Deputy Cabinet Secretary for Defense, Security, Communication, and Informatics Edwin J.H. Wuisang
INDUSTRY.co.id - Cabinet Secretariat of the Republic of Indonesia and Ministry of Government Legislation (MOLEG) of the Republic of Korea Thursday (27/05) held a Working-Level Seminar adopting the theme "Statutory Interpretation and Presentation of Opinion".
The seminar aims to discuss the function of MOLEG in interpreting statutory and presenting opinion for the South Korean Government to address legal issues as challenges in the implementation of the South Government's policies.
Assistant to Deputy Cabinet Secretary for Defense, Security, Communication, and Informatics Edwin J.H. Wuisang as the discussion moderator said that the seminar was the third event out of a total of six events planned to be organized by the two institutions.
On that occasion, Cabinet Secretary's representatives asked for opinions from MOLEG if there were the Statutory Agency in Indonesia.
In response to that, MOLEG's Director of the Statutory Interpretation Management Division Bang-Geukbong said that there is Regulatory Reform Committee (PRC) in South Korea that is not responsible for MOLEG and functions to review and evaluate regulation.
"It is recommended that regulation and legal evaluation in Indonesia can be implemented by one agency," Bang-Geukbong said.
Afterwards, MOLEG also gave advice to the Government should there were legal issues in taking policy decisions and implementing policy.
MOLEG's Director of the Legislative Consultation Division Jung-Yongbok told an example case example that is related to COVID-19 handling in the Republic of Korea in which MOLEG quickly presented opinion to issue a regulation to provide face masks for the public.
According to Jung-Yongbok, MOLEG can immediately provide answers about legal interpretation at the same day, adding that related to policy setting, MOLEG does not directly issue the policy but presents professional, objective opinions as immediate support to Government's departments.
At the end of the discussion, Edwin expressed hopes that the discussion can positively impact both countries, especially Cabinet Secretariat and MOLEG.