Indonesia Sends 2,000 Oxygen Cylinders to COVID-battered India
By : Nata Kesuma | Monday, May 31 2021 - 16:05 IWST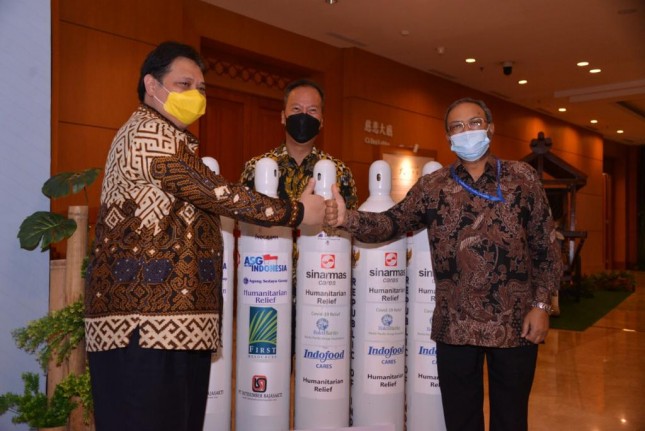 Coordinating Minister for Economic Affairs Airlangga Hartarto (left) before sending 2,000 oxygen cylinders to India, Friday (28/5). (Photo by: Coordinating Ministry for Economic Affairs Public Relations)
INDUSTRY.co.id - The Indonesian Government has dispatched 2,000 oxygen cylinders to India to help the South Asian country in the battle against COVID-19.
The medical aid was the second package following 1,400 oxygen cylinders sent in May this year.
Coordinating Minister for Economic Affairs Airlangga Hartarto, who helms the COVID-19 Handling and National Economic Recovery Committee, asserted that the aid is a token of commitment from the Indonesian Government in strengthening friendship between the two countries.
India and Indonesia, he added, are strategic partners and good friends during highs and lows, including in handling the pandemic.
When the pandemic began, the Indian Government supplied medical raw materials for Indonesia and to return the favor, the Indonesian Government on 12 May 2021 sent 200 oxygen concentrators to India.
"Hopefully, our brothers and sisters in India will make use of the aid sent by Indonesia," Airlangga said during the handover of the aid to the Indian Government represented by Indian Ambassador to Indonesia Manoj Kumar Bharti in Jakarta, Friday (28/5).
For the record, the aid is provided through a program organized by Indonesian Ministry of Industry.
A number of Indonesian companies and associations from industrial sector were involved in the aid program through a public-private partnership scheme.
They are among others the Indonesian Industrial Gases Association, gas distributor PT Samator, property developer Sinar Mas, food manufacturing company PT Indofood, property developer PT Agung Sedayu Group, Bakti Barito Foundation (COVID-19 Relief Bakti Barito), PT First Resources, steel distributor PT Inti Sumber Baja Sakti, rayon fiber producer PT. Asia Pacific Rayon, the Indonesian Textile Association, polyester producer PT Indorama Group, and publicly-listed gas distributor PT Aneka Gas Industri, Tbk.
On that occasion, Airlangga applauded the companies for their support for the program and said that the cooperation is in line with the Government's effort to handle the pandemic and rebuild the economy at the same time.
Echoing a similar sentiment, Minister of Industry Agus Gumiwang Kartasasmita underscored that the aid is the result of participation from Indonesian industrial sector, while urging the public to learn from India by maintaining discipline in adhering the health protocols and not lowering guard against the virus.
In the meantime, Indian Ambassador to Indonesia Manoj Kumar Bharti conveyed his appreciation to Indonesian Government who provided aids to help his country in combating the pandemic.
"We have received 2,000 (oxygen) cylinders at the second batch. Previously, we also received 1,400 cylinders. In the early days of the pandemic, we provided aids to more than 84 countries and now they return our favor. Indonesian industry led by Ministry of Industry is very much helping us" the Ambassador said.