Public Works Ministry Completes Rehabilitation of 52 Buildings in W. Sulawesi
By : Nata Kesuma | Monday, June 07 2021 - 17:00 IWST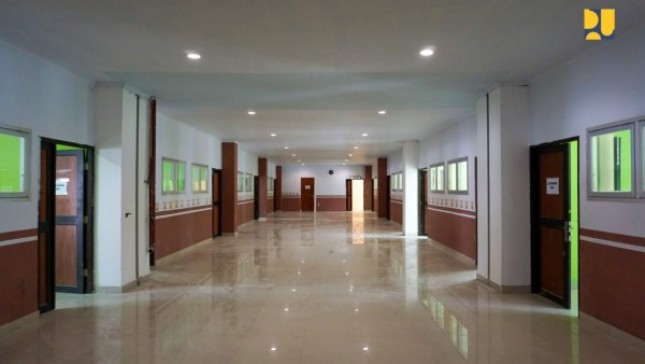 Source: PR of Ministry of Public Works and Public Housing
INDUSTRY.co.id - Ministry of Public Works and Public Housing continues to conduct rehabilitation and reconstruction of damaged buildings and public facilities due to an earthquake in West Sulawesi last January. To date, the physical progress of rehabilitation has reached 54.53 percent with a total of 52 buildings.
The rehabilitation and reconstruction activities are a follow-up plan to the directives of President Joko "Jokowi" Widodo when he visited disaster affected locations earlier this year.
Therefore, Minister of Public Works and Public Housing Basuki Hadimuljono has decided on several post-management steps, namely: setting the priority to open connectivity access to Majene and Mamuju; cleaning up debris; and, providing evacuation support facilities.
"Then, to ensure security, all buildings will be technically audited for their feasibility, especially government buildings and housing that are still standing. The aim is to determine whether a building is still feasible or not even though it looks fine at first glance. If feasible, a small renovation can be carried out," Basuki said, as quoted from the Ministry's website, Thursday (3/6).
The Ministry handled 96 buildings affected by the earthquake, consisting of 56 government buildings, 29 health facility buildings, 2 state university buildings, 2 worship facility buildings, 5 low-cost apartments, and 2 drinking water installations.
Of the 96 buildings, as many as 90 building units are already in the handling process through the mechanism for handling emergency situations towards recovery. The remaining 6 units will be handled through regular mechanism.
As of 30 May 2021, a total of 20 permanent reconstructed building units have begun to be handled with physical progress of 19.01 percent. Meanwhile, as many as 70 building units that have begun to be handled have achieved physical progress of 79.11 percent, consisting of 18 building units that are still in the handling process and 52 building units that have been completed.
A total of 18 buildings, that have been completed, have been handed over for utilization. Some of them are lecture building of Majene State Islamic College (STAIN), Malunda community health center, and Lombong Malunda sub-health center.
Furthermore, the Ministry will also handle 41 public schools and 3 public madrasas, including 10 public schools in severe damage category that received the Special Allocation Fund (DAK).
Of the 44 public schools and madrasas, 2 schools will be handled using the corporate social responsibility (CSR) mechanism, 23 schools will be handled using Healthy Modest Instant House (RISHA) construction method, 17 not easily accessible schools will be handled using conventional method, and the remaining 2 schools will be relocated.
The total budget requirement for the rehabilitation and reconstruction reaches Rp856.8 billion, which is divided into two fiscal years, namely 2021 and 2022.