Inaugurated by President Jokowi, Banjarbakula SPAM Supply Drinking Water to 60,000 Homes
By : M. Shaqeel | Saturday, March 18 2023 - 15:26 IWST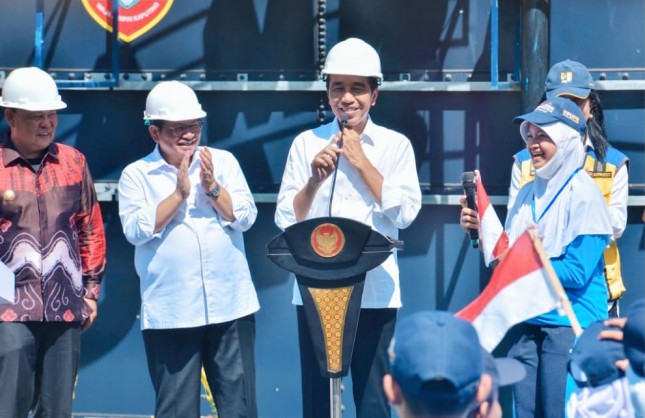 President Jokowi accompanied by Cabinet Secretary Pramono Anung when inaugurating the Banjarbakula SPAM, Friday (17/03/2023), in Banjarbaru City, South Kalimantan. (Photo: Public Relations of Setkab/Jay)
INDUSTRY.co.id - RI President Joko Widodo (Jokowi) inaugurated the Banjarbakula Drinking Water Supply System (SPAM), Friday (17/03/2023), in Banjarbaru City, South Kalimantan (Kalsel).
This SPAM will supply drinking water to around 60 thousand households in South Kalimantan.
"So the SPAM that is here will provide water for Banjarmasin City, Banjarbaru City, Banjar Regency, Barito Kuala Regency, Tanah Laut Regency, all of which will be provided from the drinking water supply system," said the President.
The President revealed that the construction of the second phase of SPAM spent a budget of IDR 787 billion.
"The SPAM that we built here for the second stage spent a budget of IDR 787 billion, that's a lot," he said.
The President added that the water supply that is treated at the Banjarbakula SPAM comes from the Riam Kanan River.
"About 20 kilometers from here, they are brought here, processed, cleaned, then supplied to approximately 60,000 households," he said.
On that occasion, President Jokowi also gave quizzes to students who were present at the inauguration. Three students who dared to go forward and answer the President's questions then got bicycles from President Joko Widodo.
Banjarbakula SPAM has a capacity of 500 liters per second. This SPAM includes the construction of an intake with a capacity of 1,200 liters per second which is used as a source of raw water for the Banjarbakula water treatment plant of 750 liters per second, PT. Banjar Diamond Drinking Water 170 liters per second, and PT. Banjarmasin Drinking Water 280 liters per second. The supply of drinking water from this dam is received by 60,353 households or 301,765 people.
Present accompanying President Jokowi in the inauguration of the Banjarbakula SPAM, namely Cabinet Secretary Pramono Anung, Director General of Cipta Karya Ministry of Public Works and Public Housing Diana Kusumastuti, Governor of South Kalimantan Sahbirin Noor, Mayor of Banjarbaru Aditya Mufti Ariffin, Mayor of Banjarmasin Ibnu Sina, Regent of Banjar Saidi Mansour, Pj. Regent of Barito Kuala Munjiyat, and Regent of Tanah Laut Sukamta Regency.