Inaugurated by the President, the Kretek 2 Bridge Strengthens the Java Southern Route
By : M. Shaqeel | Friday, June 02 2023 - 15:10 IWST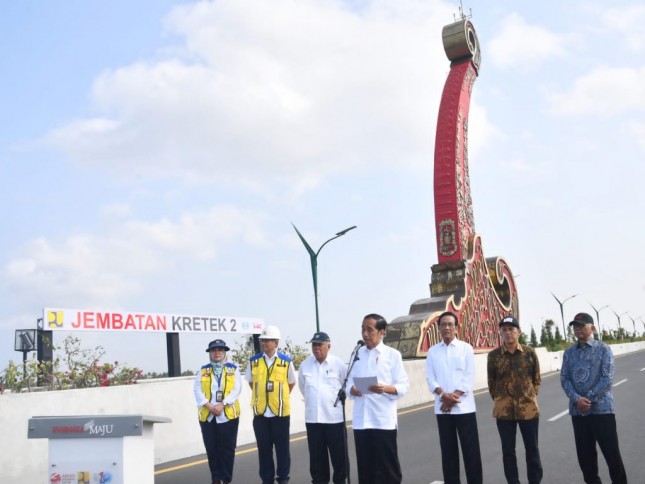 President Jokowi inaugurated the 2nd Kretek Bridge, in Bantul, DI Yogyakarta, Friday (02/06/2023). (Photo: BPMI Setpres)
INDUSTRY.co.id - RI President Joko Widodo (Jokowi) inaugurated the Kretek 2 Bridge, Friday (02/06/2023) morning, in Bantul Regency, DI Yogyakarta. This bridge will support the Southern Cross Road (JJLS) which is targeted to be completed this year.
"Yes, this is the causeway south. This will be from the end of Banten to the end of Banyuwangi, in East Java, it will be finished this year," said the President.
The construction of the Kretek 2 Bridge is included in the government's efforts to build a road connection from the west end to the east end of Java Island via the southern route. According to the President, the construction of infrastructure for the southern route in several areas of Java has been 100 percent completed.
"The shortage in the Special Region of Yogyakarta is 14 kilometers, then in East Java 24 kilometers, it's finished, everything is connected, and the road conditions are like this," said the President.
The President hopes that the existence of JJLS can expedite the flow of goods and people as well as increase the competitiveness of products produced in the southern part of Java.
"We hope that the speed of the logistics line, the mobility of people, the mobility of goods can all run smoothly because we already have a southern route. We hope that the competitiveness of existing products, which are produced in southern Java, can enter the market with much better competitiveness , the goal is to get there," he said.
The Kretek Bridge which spans over the Opak River has a total length of 2.7 kilometers. This infrastructure was built with an investment value of Rp 364 billion. (FID/UN)