Manpower Ministry Pushes for Indonesia's Human Resource Competency Improvement
By : Nata Kesuma | Monday, June 07 2021 - 19:45 IWST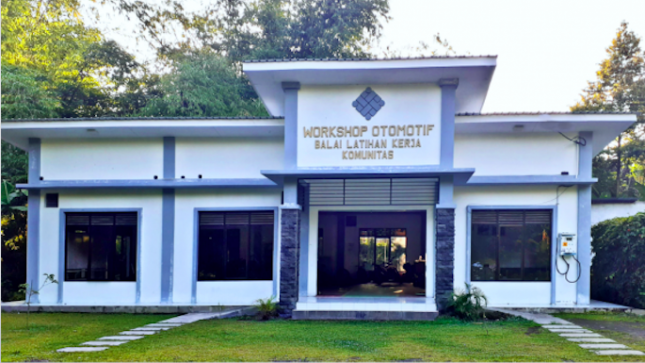 A community work training center. (Source: kemnaker.go.id)
INDUSTRY.co.id - Ministry of Manpower continues to enhance the competencies of Indonesia's human resources through its work training centers (BLK).
"Ministry of Manpower is committed to maintaining, developing, and improving the competencies of human resources in Indonesia through training held at BLKs and Community BLKs," Minister of Manpower Ida Fauziyah said in Jakarta, Saturday (05/06).
According to Ida, her Ministry is also committed to enhancing roles and quality of Community BLKs by, among others, carrying out a National Meeting of Community BLK on Vocation and Entrepreneurship to be held Tuesday (08/06).
Furthermore, she added that Community BLKs' training programs are designed to stay relevant to the demands of local job markets, respond to opportunities and potentials, prioritize creativity and innovation, and boost cooperation with industries.
"Therefore, every proposal of Community BLK must include the potentials of the local business and industry sector, so vocational training of the Community BLK aligns with the available opportunities," she said.
The Minister also underscored that Community BLKs had brought positive impacts to the Community BLKs' management and training participants, one of whom is Hendro Wibowo, the leader of Attaubah Community BLK at Kaum Islamic Boarding School in Karawang regency in West Java province.
According to Hendro, amid the tight competition of working age that puts a great emphasis on competencies in all sectors, Community BLKs have provided a solution to those who want to improve their competencies.
"Specifically for Community BLK in Karawang regency, this program has given many alternatives to create competent human resources. The segmentation of productive ages for training participants has also given many opportunities for participants in choosing what they want to do after completing the training," Hendro remarked.
Hendro added that the competency evaluation is held by Community BLK with a good data system, which enables BLK Community management to monitor BLK Community alumni who return to the community and are released to different business fields and job sectors.