President Jokowi Inspects Jabodebek LRT Construction
By : Nata Kesuma | Thursday, June 10 2021 - 17:55 IWST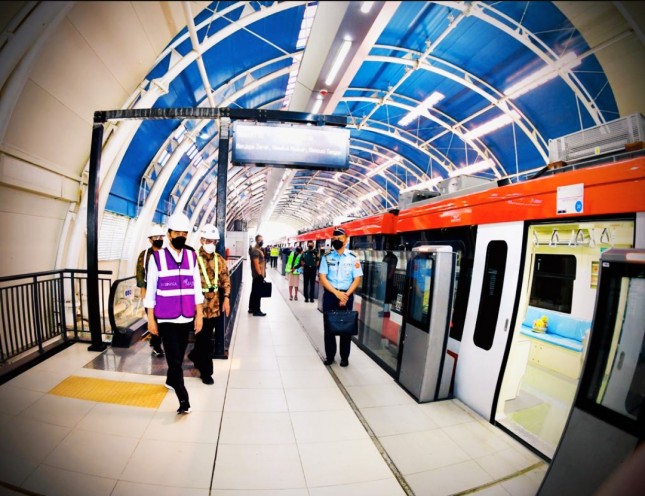 President Jokowi inspects the first stage of Jabodebek LRT construction, Wednesday (09/06/2021) morning. (Photo: Bureau of Press, Media, and Information of Presidential Secretariat/Laily Rachev)
INDUSTRY.co.id - President Joko "Jokowi" Widodo Wednesday (09/6) inspected the construction of Light Rail Transit (LRT) with tracks connecting the cities of Jakarta, Bogor, Depok, and Bekasi (Jabodebek).
The construction of the Light Rail Transit is slated to be completed by mid-2022. On that occasion, the President said he was proud of the LRT construction and added that the LRT construction is a form of collaboration with all elements of the nation in developing mass transportation in Indonesia.
In the meantime, speaking to reporters after accompanying the President during the inspection at Taman Mini Indonesia LRT Station in East Jakarta, Minister of Transportation Budi Karya Sumadi said:
"Today we are delighted that the President inspected and gave directives on the LRT project that makes us proud. The President is also proud as there is one LRT transport with a length of 44 kilometers and 18 stops that will be completed in the middle of 2022." The mass transportation, Budi added, is purchased through a collaboration of several stakeholders, including state-owned railway company PT Kereta Api Indonesia (KAI), state-owned construction company PT Adhi Karya, state-owned electronic manufacturers PT Len Industri, and state-owned train manufacturer PT Industri Kereta Api (INKA).
"It is impossible for a nation to easily achieve technology. Efforts must be made. Thank God, a consortium of PT KAI, Adhi Karya, Len, and INKA can make this Indonesian product come true with a quality that is on par with that of other countries' products," he added.
Budi also pointed out that such a collaboration will be applied in the construction of mass transportation modes in other big cities, adding that construction using a cooperation scheme between the Government and business entities is expected to be a model for transportation mode construction in other regions.
The President, he added, has also ordered for LRT's operation that is integrated with other public transportation modes, such as trans-Jakarta, commuter line, MRT, and the most recently constructed Jakarta-Bandung high-speed train.
"Measures to integrate transportation modes must be carried out well so intermodal integration, between different types of trains or between trains and other transportations, can run well," Budi said, quoting the directive of the President.
Budi further that his Ministry will continue to prepare primary aspects to ensure passenger safety during the operation of LRT.
"We still have one and a half years to integrate them, so safety is a vital factor," he said.
For the record, the first stage of Jabodebek LRT construction consists of several tracks. The first track serves Cawang-Cibubur route with a length of 14.8 kilometers and the progress of the construction reaching 93.8 percent.
The second track serves Cawang-Dukuh Atas route, which has an 11-kilometer-long track and 84.3 percent progress. In the meantime, the third track, which serves Cawang-East Bekasi route, is 18.4 kilometers in length and is 90.9 percent completed. Apart from those three tracks, a Jabodebek LRT Station in East Bekasi is also under construction with the construction progress reaching 44.1 percent.
Jabodebek LRT will have 18 stop stations. One LRT train can carry 740 passengers in a normal condition and 1,308 passengers during peak hours. The maximum speed is up to 80 kilometers per hour. One of the advantages that the LRT offers is that it can move faster than private vehicles or bus.
With the LRT, it only takes 45 minutes from East Bekasi to Dukuh Atas in South Jakarta and only 39 minutes from Cibubur to Dukuh Atas.