Indonesia Reports State Revenue Growth in May
By : Nata Kesuma | Friday, June 25 2021 - 19:10 IWST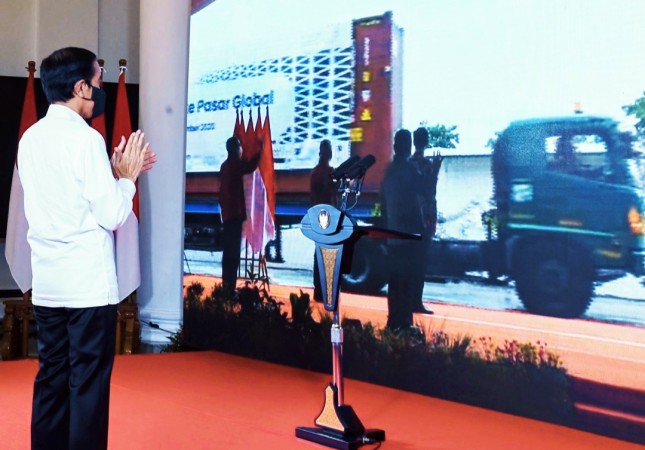 President Jokowi virtually inaugurates the 2020 Launching of Exports to Global Markets from the Bogor Presidential Palace, West Java, Friday (04/12/2020). (Photo by: Presidential Secretariat/Rusman)
INDUSTRY.co.id - Indonesia has recorded state revenue growth in May, according to Minister of Finance Sri Mulyani. The growth was achieved in line with increased spending and investment performance for COVID-19 handling and national economic recovery, increased growth of tax and non-tax state revenue, as well as maintained conditions of customs and excise.
The tax revenue reached Rp459.6 trillion or 37.4 percent of the Rp1,229.6 trillion ceiling, an increase of 3.4 percent year-on-year.
"So, if we compare it year-on-year, there is an increase. Of course, this is excellent because at this time, the process of recovering and increasing taxes must go naturally little by little together with the incentives that we continue to provide also to the economy," the Minister stated as quoted from the Ministry's website, Tuesday (22/06).
The customs revenue reached Rp99.32 trillion or 46.2 percent from the ceiling of Rp215 trillion. The realization of the customs revenue grew 21.6 percent from the target. In detail, import duties grew 3.56 percent, affected by the trend of increased performance of national imports; excise duty grew 11.9 percent driven by the growth of tobacco products excise; and export duties grew 844.6 percent propelled by increased exports of copper commodities and high prices of palm oil products.
"Customs also provides fiscal incentives for medical devices, vaccines, and also for the business world in general in the form of exemption from import duties and taxes. If we look at it, it is still dominated by medical devices, especially the very high import of vaccines," Sri Mulyani said.
Meanwhile, the performance of non-tax state revenue until May 2021 is improving, supported by increased revenues from non-oil and gas natural resources, other non-tax revenues, and revenues from the Public Service Agency (BLU).
Of the target of Rp299.1 trillion, Rp167.6 trillion or 56.2 percent has been realized and the non-tax revenue growth increased 22.4 percent year-on-year.
"We will continue to observe the non-tax revenues as a mechanism to support the Government's ability to provide public services, especially for the sectors of education and health, but on the other hand also for natural resources which do provide income other than tax revenue which is also very important," she said.