Foreign Minister Urges NAM to Support Palestinian Struggle
By : Nata Kesuma | Friday, July 16 2021 - 20:02 IWST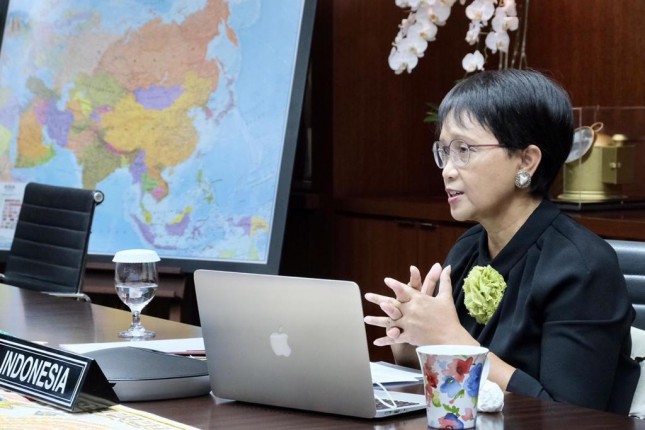 Indonesian Foreign Affairs Minister Retno Marsudi. (Photo by: Ministry of Foreign Affairs PR)
INDUSTRY.co.id - Minister of Foreign Affairs Retno Marsudi urged all members of Non-Aligned Movement (NAM) to recognize Palestine as a state and support Palestinian struggle.
Palestine is the only nation that has not gained its independence. Thus, the NAM must support the reimplementation of credible multilateral negotiation and ensure humanitarian aid to ease the burden of the Palestinians.
"Since NAM has many member states, such power can be utilized to make positive contribution to the world as long as we are united to cooperate and still uphold the Ten Principles of Bandung," Retno said in Mid-Term Ministerial Conference of the Non-Aligned Movement (NAM) held virtually on 13-14 July 2021 under the chairmanship of the Republic of Azerbaijan.
She also urged NAM member states to create synergy to establish a fair access to COVID-19 vaccine.
"There is a huge gap in vaccination; developed countries had vaccinated 70 percent of their populations while the progress in most of member states of the NAM was still below 10 percent," she said.
She underscored that NAM member states should narrow the gap and speed up vaccination program in developing countries. The NAM can also promote dose-sharing, strongly support COVID-19 Vaccines Global Access (COVAX) Facility and the Trade-related Aspects of Intellectual Property Rights (TRIPS) waiver negotiation.
The Minister also called NAM member states to cooperate to rebound the economy since the pandemic had pushed hundreds of millions of people into poverty and hindered the realization of Sustainable Development Goals (SDGs).
"Thus, the NAM must join hands to ensure participation of developing countries in international financial form, to tackle unfair trade practices and donor requirements for funding, and to enhance global partnership in development," she said adding that Indonesia will use the moment of Indonesia's presidency to host G20 Summit 2022 to work on the interest of developing countries.
On that occasion, the Minister also addressed challenges to be faced by the NAM since its foundation 60 years ago, namely issues of global superpowers, inequality, inequity, and unfairness in social-economic aspect. Principles and values uphold by the NAM including the value of multilateralism became more relevant to tackle that issues and challenges.
For the record, the Mid-Term Ministerial Conference produced a political declaration that reaffirmed NAM's position in addressing global issues. The Indonesian delegates also contributed to share their points of note in the proposal regarding COVID-19 pandemic (fair vaccine distribution), women in peacekeeping, disarmament, roles of observers, changes in NAM work practice, and the issue of Palestine.