ZINC to Operate First Lead Smelter in Indonesia by End of 2021
By : Nata Kesuma | Tuesday, November 30 2021 - 20:12 IWST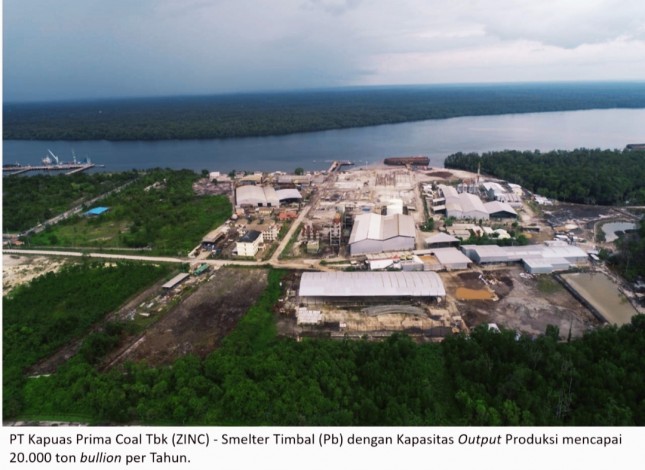 PT Kapuas Prima Coal Tbk ("ZINC")
INDUSTRY.co.id - Jakarta, November 29, 2021 – PT Kapuas Prima Coal Tbk ("ZINC"), a listed company in Indonesia that produces base metal, has completed the construction of a lead (Pb) smelter in its operational area, in Pangkalanbun, Central Kalimantan.
This lead smelter is the only lead smelter in Indonesia will be operated by of one of ZINC's subsidiaries, Kapuas Prima Citra, with a total investment cost of US$ 15 million.
Director of ZINC, Evelyne Kioe said, "When it is operational, the targeted output capacity for lead production from the smelter is to reach 20,000 tonnes of bullion per year. From the additional smelter production, we hope to be able to provide additional revenue of US$ 60-80 million next year."
The ZINC lead smelter construction process has been started since 2016 and is planned to start operating in December 2021. In operating the smelter, the Company continues to maintain environmental sustainability by fulfilling the Environmental Impact Analysis or AMDAL. All waste will later be reused prevent its disposal and have them become hazardous waste.
In addition to the lead smelter that has been completed, ZINC is also building a smelter for zinc (Zn). The construction of the zinc smelter is currently under way with the construction progress reaching 82.89% in the third quarter of 2021 and is expected to start operating in the first quarter of 2023 with a production capacity of 30,000 tonnes of ingots per year.
For information, by September 2021, ZINC recorded sales of IDR612.6 billion, an increase of 61.0% compared to the same period in 2020. Meanwhile, ZINC's net profit also jumped 148.0% or IDR65.4 billion from IDR26.4 billion in the same period in the previous year. This achievement was driven by sales of Zinc (Zn) which reached IDR260.4 billion and Lead (Pb) IDR96 billion.