TK Elevator wins Elevator World 'Project of the Year 2022' award for moving walks
By : Nata Kesuma | Monday, December 06 2021 - 23:42 IWST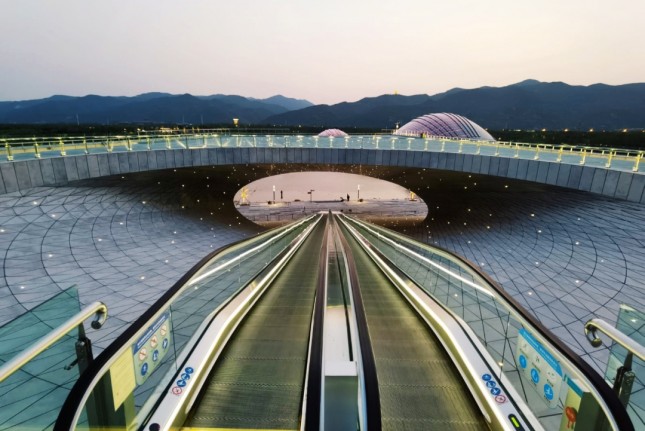 TK Elevator's Taiyuan Botanical Garden project in Shanxi, China
INDUSTRY.co.id-Hong Kong, December 6, 2021 – TK Elevator is pleased to once again receive Elevator World's Project of the Year award. With its Taiyuan Botanical Garden project in Shanxi awarded "Project of the Year 2022" under the "Moving Walks" category, the company has been given this prestigious recognition consecutively in the award's past three editions.
The award highlights TK Elevator's continued achievement in providing and installing some of the most innovative and customer-centric mobility solutions across the globe.
The site of a former coal mine, the Taiyuan Botanical Garden was transformed into a modern landscape park and museum by Austrian architect firm Delugan Meissl.
features of this park include three domed greenhouses and a large terrace providing a panoramic view across the park. The highlight of the project is the moving walkway that extends through an opening through the roof of the entrance building, provided by TK Elevator.
Installation of a pair of TK Elevator's orinoco moving walks at a 12-degree incline, 1000mm width, 11.85m height and 62.4m span in the sustainability-themed botanical garden not only sets a new record as the longest and highest (in terms of rise) moving walks installed by the company in China, but also showcases the exceptional build and aesthetic qualities of the German engineered TK Elevator products.
"Customer satisfaction is of paramount importance to TK Elevator. As an iconic element of the park's design and the sole entrance to the panoramic terrace, the orinoco moving walk was chosen by the customer for its proven track record in safety and reliability," says Peter Walker, CEO at TK Elevator. "We are proud to show our entrepreneurial spirit and once again convince with our innovative mobility solutions."