Foot Locker Opens Its First 'POWER STORE' in Indonesia to Answer the Needs of Indonesian Youth
By : Nata Kesuma | Monday, January 31 2022 - 18:45 IWST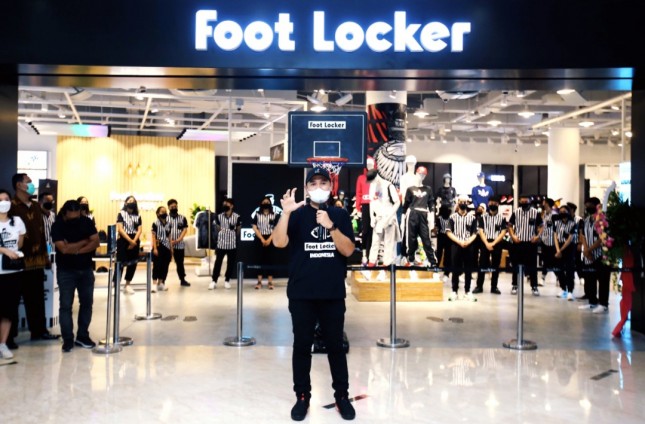 The Foot Locker Senayan City "Power Store"
INDUSTRY.co.id - Jakarta, – Foot Locker, a retailer with an iconic reputation in the sneaker and youth culture space officially opens its first "Power Store" and a "Core Store: in Indonesia through a partnership with PT MAP Aktif Adiperkasa Tbk. (MAPA).
The first "Power Store" is located at Senayan City shopping mall was officially opened on 28 January 2022, while its "Core Store" located at Pondok Indah Mall 3 shopping center will be officially opened a day later on 29 January 2022.
The Foot Locker Senayan City "Power Store", which is located on the 1st floor, boasts 871.46 square-meters of retail space. It features "Foot Locker for her" lounge area and a Kids Foot Locker area, making it perfect to serve the entire family. The Foot Locker Pondok Indah Mall 3 "Core Store" which is located on the 1st floor has an area of 312 square-meters.
These two outlets are expected to be the hub for local sneaker culture, art, music and sports. Foot Locker will bring closer access and provide convenience for Indonesian consumers who would like to shop for the world's best sneaker products such as Nike, Adidas, Converse, New Balance, Puma, and other well-known brands.
In addition, Foot Locker also launches its official website for the Indonesian market namely www.footlocker.id to facilitate consumers' access for online shopping.
Aligned with its purpose, which is to inspire and empower youth culture, Foot Locker Indonesia supports and engages local sneaker, dance, basketball, and some other local sports communities for its pre-opening activities and also beyond.
On top of that, Foot Locker teams up with local street artist Darbotz as an effort to create an artistic touch to the visual elements of Senayan City "Power Store" to provide a completely unique new experience for consumers. Moreover, the New York City-based retailer also collaborates with one of Indonesia's most influential street photographers, Bill Satya. Bill conducted a photo hunting session with a focus on the landscape of Senayan area and community activities as well.
"At Foot Locker, Inc., we're committed to bringing our love of sneakers and unrivaled customer experiences to communities across the globe," said Scott Martin, President, Asia Pacific, Foot Locker, Inc. "Opening these new outlet stores is an important milestone in our partnership with MAPA and one we look forward to building on."
CEO MAP Active (PT MAP Aktif Adiperkasa), Nicholas Jones said that MAPA is highly enthusiast to be able to open Foot Locker stores in Indonesia. "This is a strategic step and in line with Foot Locker's mission to expand and strengthen its network in marketing well-known sneaker brands with a variety of innovative and latest product variants to answer the needs of the Indonesian market. The collaboration with two local street artists is also proof of our seriousness in working on the potential of the Indonesian market with various local wisdoms," said Nicholas in a press conference at Senayan City shopping center.
The third quarter of 2021 marked Foot Locker's first step in entering the Indonesian market, which has a large market share in the Asia Pacific region through a partnership with PT MAP Aktif Adiperkasa (MAPA), a subsidiary of PT MAP Adiperkasa Tbk. (MAPI), Indonesia's leading lifestyle retailer.
With approximately 3,000 retail networks in 28 countries spread across North America, Europe, Asia, Australia and New Zealand, as well as an easy-to-access website, Foot Locker is on a mission to inspire and empower youth culture worldwide by encouraging a shared spirit of self- expression and creating unforgettable experiences at the heart of the global sneaker community.
For more information, please visit www.footlocker.id and follow Foot Locker Indonesia's official Instagram at @footlockerid.