Lecturer President University Represents RI at International Conference
By : Ahmad Fadli And Aldo Bella Putra | Sunday, August 20 2017 - 16:51 IWST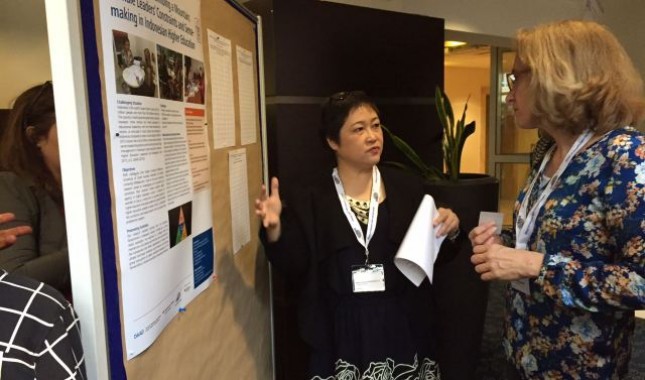 51
INDUSTRY.co.id - Jakarta - Pride is felt by President University because it has a Dr. Maria Jacinta Arquisola, BA, MHRM. The Philippines-born woman, who moved to Indonesia in 1996, is one of 20 women selected to represent Indonesia from 400 competitors for an international conference entitled "Female Leadership and Higher Education Management in Developing Countries" organized by the German Rector's Conference (HRK) And Deutscher Akdemischer Austauchdienst (DAAD), Germany, (28-29 / 7).
Maria Jacinta was invited as a speaker. The Director of Professional Development Center (PDC) presented his paper in front of 150 female academic leaders, such as Gulsun Saglamer, President of the European Women's Rectors Association. Elizabeth Rakaesola, President of Africa Gong, Pan-African Wide Association of Women Academic Leaders.
Maria said, "My paper is titled" I See My Self as Climbing a Mountain: Constraints and Sensemaking of Female Academic Leaders in Indonesian Higher Education ". This paper is the result of my research with 3 researchers from University of South Australia, Monash University and Deakin University about the struggles, constraints and success stories experienced by 14 female leaders from 4 renowned State Universities."
Master of Human Resource Management graduate of Massey University New Zealand and S3 Management Deakin University, Melbourne Australia, said that the conference produced many recommendations. From an international perspective, a South-South Cooperation Network is formed, where female leaders from Africa, South America and Southeast Asia can meet to exchange ideas, ideas, insights and global experiences about their success stories.
This network is indispensable as a discourse for policy-making relating to women's equality in leadership. Another recommendation is the capacity building program for young women leaders, especially in facing the challenges of leadership in the scope of work.
Jacinta is currently listed as an active member of the Human Resource Institute of New Zealand, and the Society for Human Resource Management USA. The winner of the 2012 Endeavor Awards from the Australian government feels there is still very little role for female leaders in universities in Indonesia. But he is very proud, President University once had the rector of women, namely Prof. Dr. Muliawati G Siswanto M Eng.Sc.
"I am very respectful of him for being able to menorobos 'glass ceiling' or structural obstacles to women. He chose a profession rarely owned by many women. He also enjoys writing and many publications. However, Bu Mul is very good also friendly and motherly. Good combination for female leader," said Jacinta.
According to Jacinta, there are still at least female rectors, because women lack preparation and opportunity to become leaders, and are still considered number two compared to male leaders. Men in Indonesia have naturally become leaders because of patriarchal culture, so the leader is a privilege of men. On the other hand the role of women is preferred as a mother who cares for children and family than a career. They are less active in making policy decisions or being representatives at the top level of management.
Jacinta strongly supports her as a leader. Despite patriarchy, he believes this situation has improved with the government's efforts to actively encourage the role of women. Already many women ministers, as well as government programs now provide many opportunities for women to become successful entrepreneurs.
Maria said, "My mission is to support young people to become women leaders so they are interested in developing themselves. For example, I like coaching and mentoring young teaching staff to participate in activities where leadership skills and their potential will be seen."
"I also support female students to take a S2 or conduct research that can encourage them to grow. And I always give inspiration in my mentoring," said Jacinta.