ASSA Transforms Into Integrated Logistics
By : Nata Kesuma | Thursday, April 14 2022 - 23:15 IWST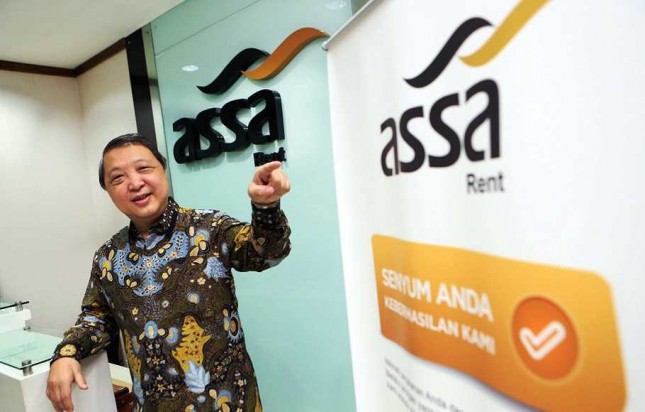 President Director Prodjo Sunarjanto, PT Adi Sarana Armada Tbk (Assa Rent). (Sumber: Investor Daily/UTHAN A RACHIM)
INDUSTRY.co.id - Jakarta, 13 April 2022 – PT Adi Sarana Armada Tbk ("ASSA") a listed company in the field of mobility, logistic, with three main business pillars, namely the mobility business (vehicle rental, driver services, logistics services car sharing), buying and selling of vehicles (Auction-JBA and Online-to-Offline used car dealers- Caroline), as well as end-to-end logistics (logistics and express couriers-Anteraja), managed to record positive performance growth during 2021.
One of these achievements was driven by the significant growth of Anteraja's delivery express business line which has succeeded in achieving 248% revenue growth, and has contributed to ASSA's profit at the end of 2021.
President Director of ASSA Prodjo Sunarjanto said, "We are grateful for the steps taken by the Company in entering the logistics business 3 years after its establishment, having developed and made positive contribution to ASSA so far. Since its inception, ASSA's revenue trend has always been dominated by the rental business, followed by sales of used vehicles until the first quarter of 2021. Then, since the second quarter of 2021, revenue from the logistics business line, which consists of ASSA Logistics Services and Anteraja (Delivery Services), has managed outgrow the revenue contribution from other business lines."
For the record, in 2021 ASSA recorded an increase in revenue of 68% year on year (YoY), from IDR3.0 trillion in 2020 to IDR5.1 trillion in 2021. Meanwhile, income for the year attributable to the parent entity was recorded at IDR142,6 billion or an increase of 64% compared to the previous year which was recorded at IDR87.1 billion. As of December 2021, Anteraja managed to become the largest contributor to ASSA's revenue with a contribution of IDR2.8 trillion or around 54% of ASSA's total revenue in 2021.
Prodjo continued, 2021 was also a historic year for ASSA, for in that year the Company has succeeded to prepare the IPO process for one of its subsidiaries, namely PT Autopedia Sukses Lestari (ASLC). In the future, Autopedia (ASLC) will develop into an online-to-offline used car dealer under the Caroline brand and an auction service business through PT JBA.
The company targets to add about 8 new branches for Caroline's showrooms in several cities in Indonesia this year. It is expected that with these efforts, Autopedia will also bring good income contribution to ASSA in 2022.
"We are grateful to be able to end 2021 on a very good note. This is inseparable from the success of management in mitigating the impact of Covid-19 by creating business innovations that are able to adapt to the situation during the pandemic. With the existing opportunities and capabilities, we are optimistic that ASSA will continue its growth for the following years, with a growth target of around 30- 40% in 2022," Prodjo concluded.