TPE unleashes benefits for pet accessories
By : Nata Kesuma | Tuesday, May 17 2022 - 11:23 IWST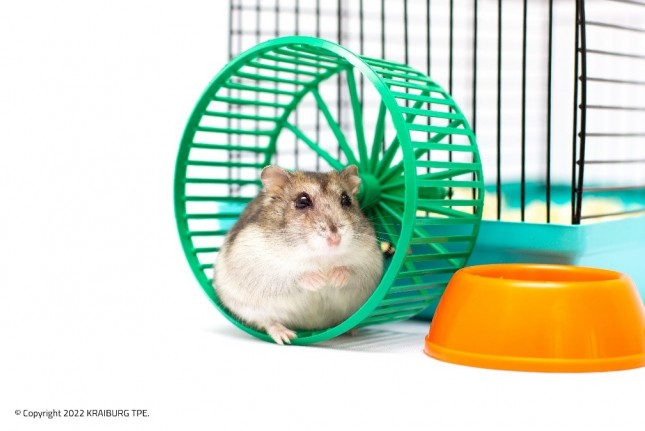 (Photo: © 2022 KRAIBURG TPE)
INDUSTRY.co.id - Kuala Lumpur, The pet care market is rapidly expanding as pet ownership increases, as does spending on pet food, grooming tools, and accessories. Pet owners are significantly concerned about the prevalence of zoonotic diseases and food contamination.
They prioritize hygiene and wellness when purchasing products for their pets, setting the stage for manufacturers to provide products made of high-quality, food-safe materials. Among the many advanced materials used in product offerings, thermoplastic elastomers (TPE) have emerged as the best of these breed.
KRAIBURG TPE, a globally recognized thermoplastic elastomer manufacturer, offers thermoplastic elastomers that comply with Regulation (EU) No 10/2011, US FDA CFR 21 (raw material conformity), China GB4806-2016, and EN71-3. TPEs are food-safe and meet DIN EN 71-3, REACH, SVHC and RoHS standards. They can be used to make pet accessories such as pet toys, bowls, collars, leash handles, training equipment, grooming tools, and other pet-related items.
Soft-touch effect, safety option
THERMOLAST® K FC/AD/PP series guarantees pet owners safe accessories for their animal companions. The compounds do not contain latex and toxic substances such as heavy metals, phthalates, and bisphenol A. It has excellent adhesion to PP, optimized flow properties, and can be processed by injection molding and extrusion, giving designers more design freedom. Natural and translucent colors are available, and the series can be colored in a variety of ways.
The FC/AD/PP series has soft touch surfaces with good haptics that are suitable for use on grip applications such as leash handles, pet collars, and other accessories such as pets feeding bowls, toothbrushes, and toys.
Toys that can last a long time
Meanwhile, the hysteresis property of THERMOLAST® K FC/HE/tl makes it ideal for pet chewing toys, as it aids in the preservation of the original shapes after extended use. These translucent compounds, which adhere well to PP and PE, can also be colored in a variety of ways.
Similarly, FC/HE/tl is excellent for applications requiring both regulatory approvals as well as elastic properties. The series has optimized mechanical properties and the ability to recycle in-process, making finished goods production more cost-effective.
Driving change to creating positive sustainability impacts
Besides the material for pet products, KRAIBURG TPE is driving change to create positive environmental and social impacts to contribute sustainability alternatives in plastics.
For KRAIBURG TPE, sustainability is one of our key responsibilities which we do and practice every day to reduce negative impacts on the environment.
Credibility is important to us as we align towards fulfilling the needs and expectations of our customers with sustainable TPE products and solutions. To achieve our long-term goals, we will actively tackle sustainability challenges by working closely with our long-standing customers, partners, and suppliers. We will walk the talk and make clear, courageous and transparent decisions in all sustainability-related areas without resorting to green-washing.
Sustainability successes of our TPE
KRAIBURG TPE's recent sustainability innovations include a specially developed material solution for automotive, consumer, and industry applications comprising post-consumer recycled (PCR) and post-industrial recycled (PIR) content. These TPE compounds meet the OEMs' high requirements to building a circular plastics economy.
Are you looking for a sustainable TPE solution? Talk to us!
Our experts are happy to answer any questions you have, as well as to offer the right solution for your application.