President Jokowi Invites US CEOs to Boost Cooperation with Indonesia
By : Nata Kesuma | Tuesday, May 17 2022 - 13:00 IWST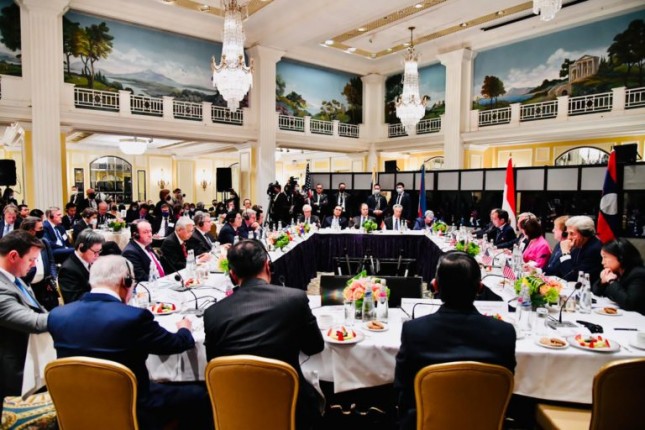 President Jokowi attends the meeting between ASEAN leaders and American entrepreneurs at Intercontinental the Willard Hotel, Washington DC, Thursday (05/12). Photo by: Laily Rachev
INDUSTRY.co.id - President Joko "Jokowi" Widodo has invited company CEOs in the United States to boost cooperation with ASEAN countries, particularly Indonesia.
"I hope CEOs of major American companies can develop concrete cooperation in the G20 and with ASEAN, and particularly Indonesia," the President said during a meeting between ASEAN leaders and American entrepreneurs at Intercontinental the Willard Hotel, Washington D.C., Thursday (05/12).
According to the President, Indonesia has the potentials in supply of industrial raw materials, provision of green energy, and digital economy.
"As one of the world's largest nickel ore producing countries, Indonesia has been growing rapidly in the iron and steel industry. Indonesia is currently the second largest stainless steel producer in the world," the President said.
The President added Indonesia also has a strong mining sector, including copper and bauxite for aluminum, which are the backbone of new and renewable energy industry for lithium batteries and electric cars.
The country is also rich in green energy potentials with a lot of hydro, solar and geothermal power plants, he added.
"We are committed to ensuring that production of essential goods will be sourced from environmentally friendly power plants. We are inviting American entrepreneurs to invest in Indonesia," President Jokowi said.
The Head of State went on to say that Indonesia is also committed to developing digital economy that is fair and beneficial for all, adding that the country has 2,346 start-ups – the fifth country with the highest number of start-ups in the world.
"I look forward to the involvement of American businesses in developing digital infrastructure [in Indonesia], facilitating digital capacity-building, and supporting us in entering the global value chain through digitalization," the President remarked.