GoTo's Partners Shows Digital Transformation Benefit to Y20 Delegates
By : Abraham Sihombing | Friday, July 22 2022 - 14:29 IWST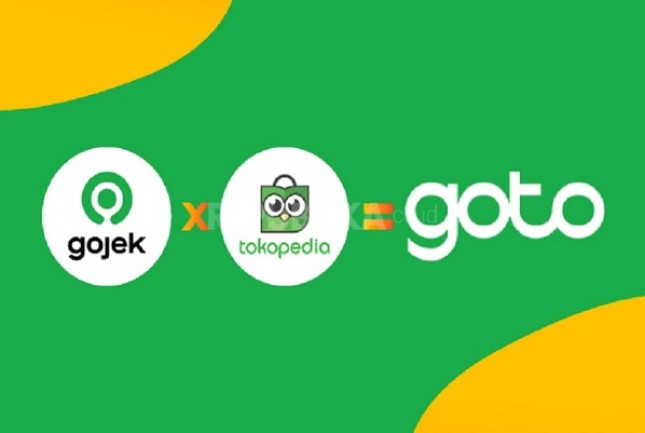 GoTo is a blend of Gojek and Tokopedia. (Photo: republika.co.id)
INDUSTRY.co.id - Jakarta - The Indonesia's G20 presidency in this year is used as a momentum to show the world about the positive impact of digital transformation in informal sector and Micro, Small, and Medium Entrepreneurs (MSMEs) in Indonesia.
The youth arm of G20, namely Y20 invited partners of PT GoTo Gojek Tokopedia Tbk (GOTO), such as the Gojek's driver-partner and Tokopedia's seller, to share the real life example about the digital transformation benefit to their livelihood and business.
Suparti (40 years), a mother of three children was invited as a representativeof 2.5 millions Gojek driver partners, the on-demand business segment of GoTo. Her story and struggle served as a reminder of the importance of inclusive education for children with disabilities or special needs for the delegates from the world's largest economies.
On Tuesday (19/07) night, Suparti appeared as one of the speakers at the Diversity & Inclusion panel of the Y20 forum,which is a dialogue forum for the younger generation as part of the G20. One of the missions of this forum is to deepen the understanding of digital transformation to produce policy recommendations whose peak will be discussed at the G20 Summit in Bali, November 2022.
"Since 2017, I've joined as a driver partner of Gojek. I became a partner of Gojek because my husband stopped working for a long time. I want to support my family, especially for the future of my daughter," Suparti recounted as in the official release of the Y20 Indonesia channel.
Suparti's daughter is Jassinta who was born deaf. Despite Jassinta's physical limitation, Suparti believed that she had to provide education for her daughter, especially because Jassinta is a smart and accomplished child at school. "My daughter needs education,"she confirmed.
Jassinta and other family members became a strong motivation for Suparti to undergo the ojol partner profession in Gojek with great persistence and dedication. Thus, she can overcome various challenges. "At thebeginning, the challenge was I had to been able to spend time for the children because I was a housewife. So, I should be enable to manage the time,"she disclosed.
The result of Suparti's earnest work finally received attention from Gojek through the Gojek Swadaya Scholarship program, that provided scholarship to children of high quality drivers. With the scholarship, Jassinta could go to college. "Now Jassinta is in her second semester,"said Suparti proudly.
Upon hearing the story of Suparti and Jassinta, the Minister of Tourism and Creative Economy (Menparekraf), Sandiaga S. Uno, at the same forum admitted that he was very moved. "I'm very touched by Mrs. Suparti's story about her work in Gojek, as well as her daughter. Amazingly touching," he clarified.
Suparti's story with Gojek, said Sandiaga, is proof of how technology plays an important role in community empowerment, including women that have a positive impact on the life of the nation and state. "And this is,of course,also a kind of impetus for the recognition that our most valuable assets are tenacity, creativity, intellectual property, and especially entrepreneurship," he revealed.
Meanwhile, in the talk showa bout Digital Transformatiom, the Y20 forum presented one of the Tokopedia sellers, Tissa Aunila, as the Co-Founder of Pipiltin Cocoa, a Jakarta-based chocolate manufacturer. Tissa told about how bad the pandemic hit her business, which resulted to 60% decline in her revenue, because her business was mostly still offline.
Luckily, Tissa was able to rebound because she quickly switched to online sales. The rapid shift, she told,began by selling on Tokopedia, the largest e-commerce in Indonesia.
"We learned at Tokopedia that we're enable to expand our market. Currently, our sales have actually increased by more than 50% compared to before the pandemic. Of course, because of digital transformation," Tissa confirmed.
At the same forum, the First Deputy Ministerof SOEs, Pahala Nugraha Mansury, said that the magnitude of the benefits of digital platforms was also acknowledged by thegovernment, especially in creating a more inclusive and sustainable Indonesian economy. One way is to calculate the contribution of the informal sector to the country's economy.
"Currently, I think it's a good opportunity for informal workers to be recognized. The useof digital applications and technologies in this context can incorporate informal workers into formality," he explained.
Pahala gives example the presence of Gojek which offers solutions through digital applications to create new economic added value. The research of the Demographic Institute of theUniversity of Indonesia Economics and Business Faculty (LD FEB UI) in 2021 estimated that Gojek's contribution, which was part of the GOTO ecosystem, to the Indonesian economy, reached Rp249 trillion or 1.6% of the Gross Domestic Product (GDP).
Moreover, the Gojek partners, both driver partners and merchants, are still included in the category of informal workers. "Gojek, for example, is anapplication that allows a lot of MSMEs in Indonesia to be part of the formal economy," pahala disclosed.
Pahala believes that this method is one way for many countries, included Indonesia, to solve the gap problem that has occurred so far because of the informal sector calculation difficulty tothe economy. In fact, when it is successfully calculated, the benefits are huge.
"There's a lot of evidence that by ensuring that we can count informal workers into formal workers, there is a possibility that the GDP (Income) can go up by 2 to 5 percent and that's an incredible figure," he added. (*)