Submit Social Forestry Decree and TORA in Blora, President: Use it productively, don't neglect it
By : M. Shaqeel | Saturday, March 11 2023 - 07:17 IWST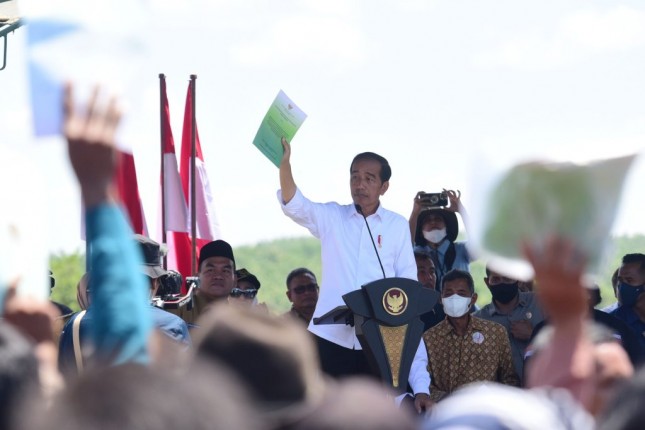 President Jokowi hands over a Social Forestry Decree and a TORA SK to the community in Blora, Central Java, Friday (10/03/2023). (Photo: Public Relations of Setkab/Rahmat)
INDUSTRY.co.id - Indonesian President Joko Widodo (Jokowi) handed over a Social Forestry Decree and an Agrarian Reform Object Land Decree (TORA) to the community in Blora, Central Java, Friday (10/03/2023).
In his remarks the President asked the community to use the social forestry land productively, such as for planting teak, corn, and mahogany.
"I'm just entrusting it to them , they have been given the decree, the green decree has been given . Please really make the land productive, don't neglect it," the President said in his remarks.
The president also reminded the government to revoke decrees on land that is not being used productively.
"Begging after being given, abandoned. Can I revoke this, you know, if it's neglected," he said.
On this occasion, the Head of State also handed over at least 1,043 land certificates to the people of Blora.
"Of the 1,160 certificates that must be submitted, 1,043 have already been made. There are a few left, more than a hundred that have not been completed, but 1,043 certificates have been handed over to ladies and gentlemen and brothers and sisters," he said.
The President added that around 120 unfinished land certificates would soon be finalized by the ranks of the Ministry of Agrarian Affairs and Spatial Planning/National Land Agency (ATR/BPN).
"Later, the remaining 123 will be completed soon. We are working at a fast pace, because we don't just take care of it in Blora Regency, but in all city districts, we have 514 districts/cities throughout Indonesia," he said.
The President also admitted that he was happy to be able to hand over a land certificate which was very important in resolving land and land conflicts in Blora that had been going on for a long time and preventing similar conflicts from happening in the future.
"Earlier the Minister of BPN said that the land conflict had been going on since '47. Therefore, last year I ordered the Minister of BPN to look at it in the field, check it properly, especially those in Ngelo Village, Cepu Village, and Karangboyo Village. What's wrong with this, how come it's not finished? BPN should be able to solve this and today it turns out that the problem can be solved," he said.
Also present at the event were ATR Minister/Head of BPN Hadi Tjahjanto, Minister of Environment and Forestry (LHK) Siti Nurbaya, Cabinet Secretary Pramono Anung, and Central Java Governor Ganjar Pranowo.