Rockwell Automation Announces Acquisition of Knowledge Lens Acquisition to accelerate Rockwell's delivery of Industrial AI solutions to manufacturers globally
By : Nata Kesuma | Saturday, March 18 2023 - 11:57 IWST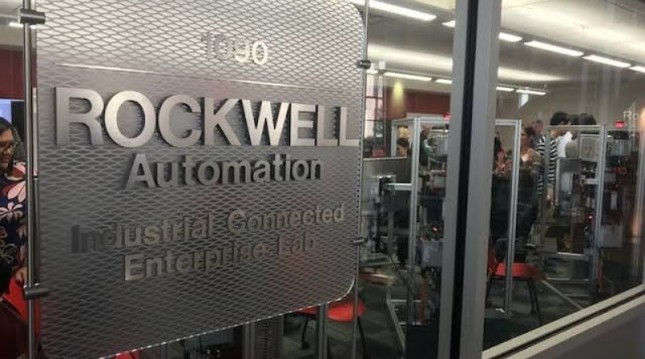 Rockwell Automation Inc. /obe.wisc.edu
INDUSTRY.co.id - SINGAPORE, 17 March 2023 — Rockwell Automation, Inc. (NYSE: ROK), the world's largest company dedicated to industrial automation and digital transformation, today announced that it acquired Knowledge Lens.
Based in Bengaluru, India, Knowledge Lens is a services and solutions provider that delivers actionable business insights from enterprise data, combining digital technologies with deep data science, artificial intelligence (AI), and engineering expertise. Knowledge Lens will join Rockwell's premier digital services business, Kalypso, to accelerate transformational outcomes for more manufacturers around the world.
Rockwell's digital transformation services business is one of its fastest growing, as demand to scale connectivity across the enterprise and enable data-driven predictive and prescriptive insights increases. Together with Kalypso, Knowledge Lens will significantly expand Rockwell's capabilities to unlock the power of data, enable autonomous manufacturing, and drive continuous optimization for more manufacturers.
"Data offers enormous advantages for those manufacturers able to harness its full potential. But for many, only a fraction of the data generated by their plants and in their supply chains is ever used," said Frank Kulaszewicz, senior vice president of Rockwell's Lifecycle Services segment.
"The acquisition of Knowledge Lens improves our ability to help more manufacturers around the world discover and use the hidden insights in their data to drive game-changing value for their businesses."
Knowledge Lens, founded in 2013, serves a broad range of manufacturers, with a specialization in highly regulated industries, including life sciences. Knowledge Lens also expands Kalypso's ability to serve clients with an open platform approach across leading AI and digital technologies.
"We are excited to join Rockwell and Kalypso and extend our collective ability to innovate and build a more sustainable, resilient, and human-centric society," said Sudheesh Narayanan, Chief Executive Officer and founder of Knowledge Lens.
"With our combined experience, and Knowledge Lens' pre-packaged cloud-native solutions for common use cases including smart factory, connected workers, IT/OT integration, data migration, and sustainability, we are well-positioned to extend our impact in the market."
About Rockwell Automation
Rockwell Automation, Inc. (NYSE: ROK), is a global leader in industrial automation and digital transformation. We connect the imaginations of people with the potential of technology to expand what is humanly possible, making the world more productive and more sustainable. Headquartered in Milwaukee, Wisconsin, Rockwell Automation employs approximately 26,000 problem solvers dedicated to our customers in more than 100 countries. To learn more about how we are bringing the Connected Enterprise to life across industrial enterprises, visit www.rockwellautomation.com.
About Kalypso
Kalypso, a Rockwell Automation (NYSE: ROK) business, helps clients fundamentally change the way they discover, create, make, and sell products by powering innovation and autonomous operations with a digital value chain. From product ideation to production to the end customer, Kalypso provides professional services in strategy and change management, data science and artificial intelligence, enterprise technology, and managed services. Kalypsonians bring deep expertise in discrete, hybrid and process industries and serve clients around the world. For more information, visit kalypso.com. Follow @Kalypso on LinkedIn and @KalypsoROK on Twitter.
About Knowledge Lens
Knowledge Lens Private Limited, a digital technology consulting company, provides industrial artificial intelligence (AI), sustainability, and digital transformation solutions to manufacturers and enterprises across the world. Leveraging data science, analytics, and cloud, Knowledge Lens helps clients accelerate their journey towards autonomous manufacturing. Knowledge Lens offers AI-driven intelligent applications addressing manufacturers' needs across the industrial lifecycle by unifying human and machine intelligence across edge to cloud driving sustainable business outcomes. For more information, visit knowledgelens.com. Follow @knowledgelens on LinkedIn and @KnowledgeLens on Twitter.