Indonesia-Sweden Cooperation on Sustainability Featured as Success Story at Sweden Innovation Days
By : M. Shaqeel | Wednesday, March 29 2023 - 14:45 IWST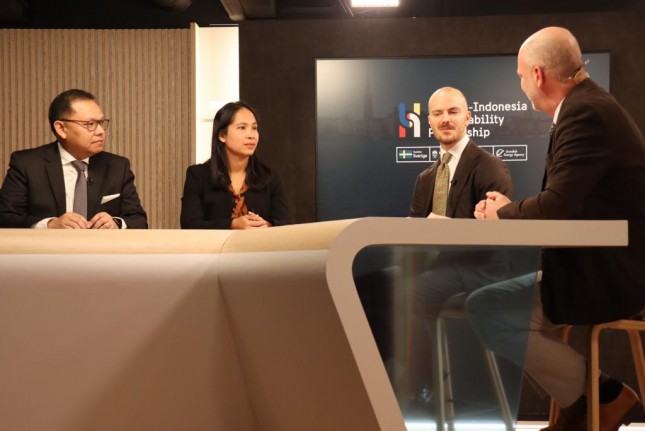 Indonesian Ambassador to the Kingdom of Sweden, Kamapradipta Isnomo
INDUSTRY.co.id - Stockholm, Sweden - "Indonesia strives to increase the productivity and competitiveness of various national strategic industries. In this case, partnership with Sweden is essential for Indonesia because of its innovation progress and technological excellence, which can be a reference and inspiration for partnerships among businesspeople and stakeholders in Indonesia," Ambassador Kamapradipta stated at the three-day Sweden Innovation Days from March 21-23, 2023.
The annual Sweden-Indonesia Sustainability Partnership Week, or SISP for short, has been highlighted as one of the successful forms of cooperation in sustainability at the Sweden Innovation Days event. Sweden Innovation Days is a collaboration of several Swedish government agencies, such as Vinnova, Swedish Energy Agency, and Business Sweden, which aims to introduce the innovation ecosystem in Sweden while bringing together innovators worldwide to exchange ideas and explore ideas and partnership opportunities.
Serving as a panellist in the Sweden Innovation Days side event, Indonesian Ambassador to the Kingdom of Sweden, Kamapradipta Isnomo, conveyed the importance of SISP activities to strengthen RI-Sweden cooperation in innovation sectors, such as transportation, renewable energy, and health.
Also present at the discussion session were Mr Paul Westin, Senior Business Developer from the Swedish Energy Agency as the moderator, Dr Fumi Harahap, an Indonesian diaspora who currently works as a Researcher at the Department of Energy Technology, Royal Institute of Technology (KTH) Stockholm, and Mr Nicki Khorram-Manesh, a Swedish diplomat who has served in Indonesia and currently handles Climate Diplomacy at the Swedish Ministry of Foreign Affairs.
In the discussion session, Ambassador Kamapradipta also conveyed several essential activities involving Indonesia this year, namely the ASEAN-Indo-Pacific Forum under the Indonesian ASEAN Chairmanship, Indonesia's participation as an Official Partner Country at Hannover Messe 2023 and the launch of the first Indonesia-Europe Business Forum this year.
"The organisation of the ASEAN-Indo-Pacific Forum this year is timely and in line with the SISP theme and the priority of strengthening RI-Sweden bilateral relations. The interconnected sectors of cooperation, such as energy and transportation, and the emphasis on sustainability show that Indonesia and Sweden have a lot in common and need to make this modality to build closer bilateral relations in the future," Ambassador Kamapradipta said.
Sweden Innovation Days is conducted in a hybrid manner through physical discussion sessions and broadcast live via streaming from the Business Sweden office in Stockholm. It was attended by over 5,000 participants this year, involving more than 90 countries, 250 speakers, and 100 discussion sessions.