Boomi Partners with Leading Japanese ERP Provider To Accelerate Digital Transformation in Japan
By : Nata Kesuma | Friday, March 31 2023 - 17:02 IWST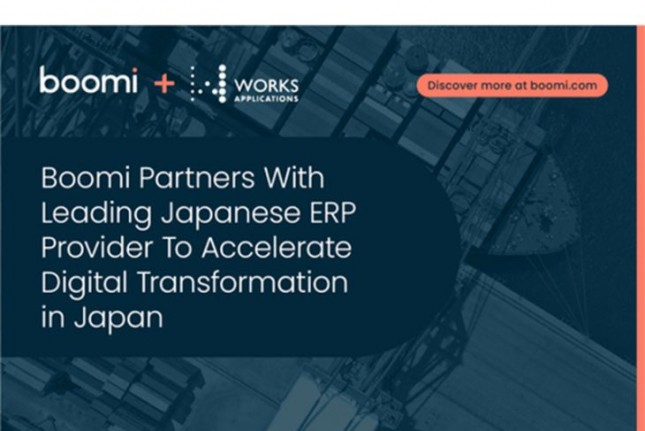 Boomi Partners With Leading Japanese ERP Provider To Accelerate Digital Transformation in Japan (Graphic: Business Wire)
INDUSTRY.co.id - Tokyo & Chesterbook, Pa.- Boomi™, the intelligent connectivity and automation leader, today announced a new partnership with Works Applications Systems, Co., Ltd. ("WAPS") which provides system development and support, and SI services.
WAPS is a group company of Works Applications Co., Ltd., a leading provider of enterprise resource planning (ERP) software solutions for financial and supply chain management. Together, the companies will help organizations in their modernization efforts by quickly and easily integrating data from legacy systems, assets, and software as a service (SaaS) applications throughout complex IT environments.
Demand for data integration and business automation solutions continues to grow in Japan and throughout the Asia-Pacific region, spurred by the rapid growth of teleworking and the ongoing need to improve operational efficiency.1 Though Japanese companies are working to realize their digitalization goals, many still grapple with bespoke, legacy systems in their operations that have become obstacles to modernization.
"Today, IT is playing an increasingly important role in the realization of digital management; however, digital transformation has not progressed as expected in Japan due to the large number of in-house developed systems in many companies," said Kenichi Yoshida, Representative Director, President of Works Applications Systems, Co., Ltd.
"We are very pleased to announce the partnership agreement with Boomi to further strengthen our collaboration in Japan. We are confident that by combining our extensive knowledge and experience in building business innovation systems with Boomi's category-leading integration platform as a service (iPaaS), we can contribute to our clients' modernization evolution, including rapid cloud deployment and effective use of data."
WAPS seeks to solve its customers' challenges in a one-stop shop by leveraging an ecosystem of industry-leading, third-party partners. By partnering with Boomi, WAPS will be able to leverage the Boomi Platform to quickly and easily connect everyone to everything, anywhere.
Based on the intelligence of mapping hundreds of millions of production-deployed integrations from Boomi customers across the globe, the Boomi platform provides pre-built connectors for more than 200 of the most popular cloud and on-premises applications, as well as a flexible architecture that enables customers to take full advantage of cloud computing.
"While iPaaS solutions are good at connecting services and resources that reside in the cloud, they expose challenges connecting data on the company network and files that may live on each employee's device," continued Yoshida.
"However, we found that the Boomi platform has an agent software to solve this issue, creating a seamless environment that effectively removes the boundary between cloud and on-premises. In addition, we discovered that most challenges can be solved by applying the examples found within Boomi's extensive Boomiverse user community and Knowledge Base. We believe that Boomi's integration platform can be effectively used not only for active proposals to existing customers in this market, but also for new proposals in our businesses that provide systems integration services."
"Regardless of industry or business category, our customers are promoting their digital transformation initiatives through cloud computing and data utilization," said Kazunori Hori, Director, Japan at Boomi.
"To ensure that our customers' data, applications, systems, and services are linked at the right time, we will work closely with Works Applications Systems, bringing together the expertise and technical capabilities of both parties."
Boomi touts a growing community of more than 100,000 members and one of the largest arrays of GSIs in the iPaaS space. The company boasts a worldwide network of approximately 800 partners, including Accenture, Deloitte, SAP, and Snowflake; and works with the largest hyperscaler cloud service providers, including Amazon Web Services, Google, and Microsoft, among others.
Included on the Deloitte Technology Fast 500™ and Inc. 5000 lists as one of America's fastest growing technology companies, Boomi has also won two International Stevie® Awards, for Company of the Year and Product Innovation; the Gold Globee® Award in the Platform as a Service (PaaS) category; the Merit Award for Technology in the Cloud Services category; the Stratus Award as a Global Leader in Cloud Computing 2022, and received the prestigious 5-star rating in the CRN Partner Program Guide for two consecutive years. (ANTARA/Business Wire)