Citi Facilitate s Harita Nickel's Initial Public Offering (IPO)
By : Nata Kesuma | Thursday, April 13 2023 - 21:37 IWST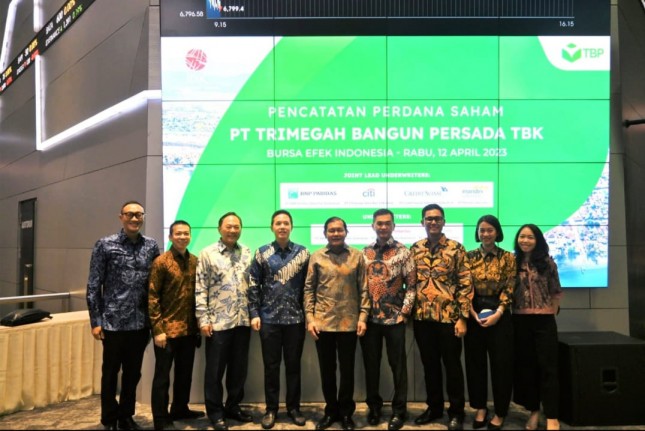 the largest IPO in Asia YTD and the largest metals and mining IPO in Asia since March 2011. In Hariyanto (third left).
INDUSTRY.co.id - Jakarta, April 13, 2023 - Citi was appointed as Joint Global Coordinator on the recent Initial Public Offering (IPO) of Indonesian nickel company, PT Trimegah Bangun Persada, Tbk. ("NCKL") also known as Harita Nickel.
The company sold 12.67% of its stake at an IPO price of IDR 1,250 per share and has raised a total of USD 650 million in proceeds. The transaction is the largest IPO in Asia year to date (YTD) and the largest metals and mining IPO in Asia since March 2011.
Indonesia has seen a significant increase in the number of companies looking to raise capital through t he IPO route. In the first quarter (Q1)of 2023 alone, 28 companies in Indonesia filed for an IPO listing, marking a 133% increase compared to the same period last year. Furthermore, the total value of IPOs increased by nearly 300% compared to Q1 2022. The companies that opted for IPOs are mostly in the technology and financial sectors , indicat ing the success and growth potential of these sectors.
Batara Sianturi, Chief Executive Officer of Citi Indonesia said " The Increase the number and total value of IPOs in Indonesia in Q1 2023 indicate that stock market is becoming more attractive to investors. Harita Nickel is well - positioned to capitalize on the growing global demand for nickel and we are proud to have supporte d the company on this landmark transaction . Citi remains committed to provide our clients with innovative solutions and expertise to help them achive their strategic objectives."
Citi has led several large IPO transactions in Indonesia across industries such as mining, power and healthcare, for companies including, PT Archi Indonesia, Tbk. ('ARCI"), PT Cikarang Listrindo, Tbk. ("POWR"), PT Medikaloka Hermina, Tbk. ("HEAL"), and PT Prodia Widyahusada, Tbk. ("PRADA").
Roy A. Arfandy, President Director of Harita Nickel, Stated, "The company's IPO received a very positive response from the market. During the Public Offering period from April 5 to 10, 2023, NCKL shares were oversubscribed to the extent that the portion of the pooling allocation required was 5% based on the provisions of the distribution of shares through the e - IPO platform. The interest of public investor does not only come from domestic investors, but also from foreign institutional investors."We appreciate the investors' enthusiasm for NCKL IPO. The oversubscription demonstrates their trust in the bright future of the nickel processing industry managed by our company," he added.
"Looking at the growing interest in the IPO market, Indonesia has also issued various policies to support the development of the stock market in the country, such as regulations to simplify the IPO process for companies looking to list,'said Julius Soesantio, President Director of PT Citigroup Sekuritas Indonesia.
Citi Indonesia is committed to support our clients and deliver their growth , financing and capital raising mandates through a wide array of solutions offer ed via our Institutional Clients Group (ICG) franchise, as our clients navigate the volatil e macro environment and contend with different market challenges.