President Jokowi Invites ASEAN Leaders to Sail on Pinisi Ship
By : M. Shaqeel | Monday, May 15 2023 - 09:17 IWST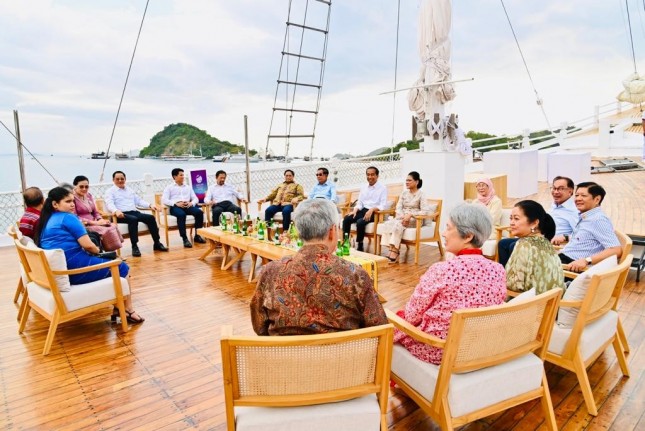 ASEAN leaders and spouses chat on pinisi ship, Wednesday (05/10) in Labuan Bajo. (Photo by: BPMI Presidential Secretariat)
INDUSTRY.co.id - After holding formal meetings, President Joko "Jokowi" Widodo Wednesday (10/05/2023) invited ASEAN leaders and spouses to sail on the pinisi ship Lako Di'a.
The President said the cruise aimed to create a relaxed atmosphere during ASEAN Summit. Like a pinisi, continued the President, ASEAN is sailing towards the goal of making ASEAN a center of growth, peace, stability and prosperity.
"I invite the leaders to sail together on the pinisi ship to create a more relaxed atmosphere because ASEAN is indeed one family. The ties are very strong and the unity is very important to sail towards the same goal—making ASEAN the epicenter of growth and a peaceful, stable and prosper region," he said.
As the chairman of ASEAN, said the President, Indonesia continues to strive to strengthen ASEAN as well as its central role in the region.
"Indonesia wants to see a strong ASEAN that is capable of facing challenges, responsive to dynamics, and still holding a central role in the region," he said.
The ASEAN leaders and spouses looked enthusiastic and happy when sailing on the pinisi ship after a full day of meetings on the first day of the 42nd ASEAN Summit.
President of the Philippines Ferdinand R. Marcos Jr. said that this activity is a very good idea to clear the head after a long day at work.
"As promised by President Widodo, we come to the ship and we don't think too much about the economy, security, and other problems and that's absolutely true. It's a very good idea to clear your mind so you will go back to work and refresh," said President Marcos.
"And romantic!" added Mrs. Louise Aranetta-Marcos, the First Lady of the Philippines.
"It's beautiful, the scenery is beautiful, so we are very worried because when the time comes for us to host ASEAN, we have to do better than this. Indonesia sets very high standards, we have to compete," added President Marcos.
Prime Minister (PM) of Singapore Lee Hsien Loong also seemed to be enjoying the trip on the pinisi boat. He was very happy that he would see the sunset.
"It feels so good, so calm, so relaxing. We're looking forward to seeing the sunset. I am very happy that we can see the sun sets. I think it is quite spectacular," said PM Lee.
PM Lee said that this was his first time visiting East Nusa Tenggara province. According to him, he had seen photos of the beauty of the province, but when he saw it in person it is actually much better.
He also admitted that he would return to East Nusa Tenggara in the future to dive or see the komodo dragons.
"I think there will be a lot of tourists coming too, especially with the new hotels coming," said PM Lee. (DND/BPMI/UN) (EST/MMB)