TRIS to Increase Production Capacity in 2023
By : Nata Kesuma | Saturday, October 14 2023 - 06:53 IWST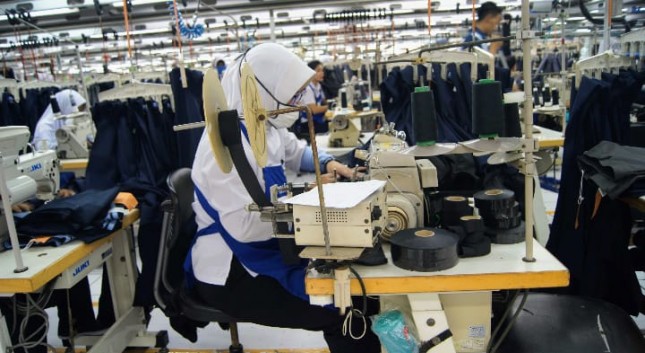 PT Trisula International Tbk (TRIS)
INDUSTRY.co.id - Jakarta, October 13th 2023 – The Trisula Group, which is controlled by PT Trisula International Tbk (TRIS), a publicly leading and integrated listed company in the textile and garment sector with international markets and more than 50 years of experience in the industry, will increase their production capacity by around 8-10% compared to 2022.
Currently Trisula Group operates 4 garment production facilities and 1 textile facility with a total production capacity of 5 million garment units and 6 million textile yards per year.
This production increase was carried out to offset the increase in demand for products received by the Company, especially for garments. Trisula Group does have special expertise in the textile and garment industry to make high quality products. The Company has so far succeeded in maintaining customer trust, and now after the pandemic the requests they receive are increasing.
PT Trisula International Tbk has competitive advantages that differentiate it from other garment manufacturers, including two subsidiaries with international certificates and recognition, namely PT Trisco Tailored Apparel Manufacturing and PT Trimas Sarana Garment Industry.
PT Trisco Tailored Apparel Manufacturing is a subsidiary of the TRIS which produces uniforms and suits. This company has the ability to work on orders with a high level of difficulty according to the buyer's needs. Trisco produces small quantity products with high value. Another TRIS subsidiary is PT Trimas Sarana Garment Industry, which produces casual trousers and sportswear. The large number of international customers served by Trimas proves the quality of the products they produce.
TRIS started playing on the export sales in 1989. All products that TRIS produces are special orders, not only on mass production, so it is flexible in producing clothing with unique details and styles. Some of the global brands that are their customers include, Le Coq Sportif, Puma, Descente, Munsingwear, Jack Nicklaus, Paul Smith, Takeo Kikuchi, Michael Kors, United Arrows until international airlines such as Singapore Airlines, American Airlines are also the Company's customers and many other companies.
"We continue to our research and development of raw materials, manufacturing standards and designs so we can start trends or further improve the quality of our production," TRIS President Director, Widjaya Djohan explains, "In the future we also plan to expand the production area at Trisco 2 to fulfill customer needs."
During 1H23 TRIS managed to record positive net sales growth of +2.9% YoY to IDR 680 billion in 1H23 (vs IDR 661.3 billion in 1H22), driven by an increase in domestic sales of +24.6% YoY. TRIS's net profit increased significantly by +43.8% YoY to IDR 43.5 billion in 1H23 (vs. IDR 30.2 billion in 1H22). These show that the TRIS has a strong foothold in this industry because they grew amidst a decline in the textile and apparel industry in Indonesia of -1.7% YoY in 1H23.
In terms of liquidity health, TRIS succeeded in maintaining a healthy balance sheet position with a DER of 0.3x in 1H23 (vs. 0.4x in 1H22), followed by a well-managed current ratio of 2.1x in 1H23.