Soetrisno Bachir, Not Accept Paychecks Keep Independence for Industry
By : Irvan AF And Aldi Firhand A | Thursday, August 24 2017 - 22:06 IWST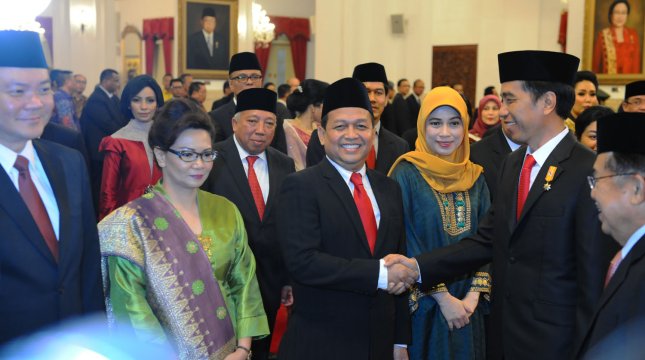 Soetrisno Bachir was congratulated by President Jokowi after being sworn in as Chairman of KEIN, at the State Palace, Jakarta, Wednesday (20/1/2016). (Photo: Setkab / Rahmat)
INDUSTRY.co.id - Jakarta - Not many officials in this country are sincerely devoted without tasting a single salary. Chairman of the National Economic and Industrial Committee (KEIN) Soetrisno Bachir, is one of the state officials who returned the salary he should have received to the state. Soetrisno receives no salary and includes other facilities such as cars in his capacity as state officials.
"I did not receive a salary every month, because my salary returned to the state," said Soetrisno Bachir in a conversation with INDUSTRY.co.id, at his residence, Thursday (24/08/2017).
The man who is familiarly called Tris tells that his official trip to the region and abroad also use His own money.
"So I do not accept anything from the state, including vehicle facilities. I even had to shell out for a trip abroad. For tickets and hotels, everything I use my own money, "said Tris who is also the organizer of the Muhammadiyah that handle the economy.
According to him, as an entrepreneur who has plucked the blessings of his efforts so far in Indonesia, he has an obligation to provide devotion to the state and keep his position independent.
"I do this in my capacity as the Chairman of KEIN in order to maintain my independence, I do not want to be bound by my position, so by not accepting my rights, I can freely give inputs to the President," said Tris.
According to the businessman from Pekalongan, besides him there are two other KEIN members who also refused to receive a salary.
"This KEIN is his duty to give input to the President, the user is the President, not the minister of industry or other institutions, the president will implement KEIN's suggestions," said Tris again.
"So put it like that, we convey to the president, including other economic issues we also give to enter the president," he explained.
Soetrisno Bachir who was former Chairman of the PAN (Partai Amanat Nasional) was also reluctant to say he was still dealing with the party. He stated in his position as Chairman of KEIN has designed a roadmap (road map_ national industry 2045.
"We designed the road map of industry 2045. When one hundred years of independence Indonesia later, Indonesia has become an industrial country that is appreciated in the regional and global arena," he said.