Restoring Quality of Life During Cancer Therapy with Vitacare Maitake Pro
By : Ahmad Fadli Dan Aldo Bella Putra | Wednesday, August 30 2017 - 15:00 IWST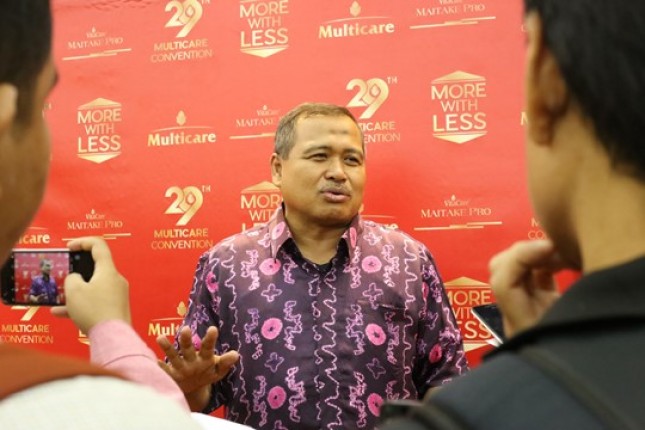 dr. Toto Imam Soeparmono Sp.OG.K.Onk, dokter spesialis kebidanan dan kandungan
INDUSTRY.co.id - Jakarta- Coinciding with its 29th anniversary PT Multicare Mitra Sejahtera held a soft launching of health supplement products for cancer with Vitacare Maitake Pro brand and a seminar on the theme of Restoring Quality of Life during Cancer Therapy.
This event is a concrete manifestation of Multicare's mission to improve the quality of life of the community by improving the quality of health. Soft launching of products and seminars held in, Jakarta is part of the series of Multicare National Convention this year.
As a background can be presented data from the Ministry of Health of the Republic of Indonesia which states that nationally the prevalence of cancer in the population of all ages in Indonesia in 2013 amounted to 1.4% or an estimated 347,792 people.
The cancer sufferer, whose number is likely to increase every year, must fight against this deadly disease. And in the treatment of cancer often people only focus on healing, whereas what happens as long as the patient struggles to get healing is rarely the spotlight.
Whereas during the struggle patients have to endure various side effects of chemotherapy that not only disturbs the physical aspect but also the patient's mental. Hence needs for additional solutions or efforts to reduce the 'suffering' of cancer patients during chemotherapy.
Armed with a long experience of developing innovative, safe, high-performance health supplement products with the support of credible scientific data and community demand, Multicare launched its new Vitacare Maitake Pro product to help restore quality of life during cancer therapy.
Gunawan, Product Manager of PT Multicare Mitra Sejahtera said, "Our latest product Vitacare Maitake Pro is made from Maitake mushroom which since ancient times in Japan has been known for its health benefits, one for cancer. Scientific research has also confirmed the benefits of Maitake mushrooms for cancer. In addition to containing Maitake Powder and Maitake D-Fraction, Vitacare Maitake Pro also features Ester-C which is guaranteed authenticity as we are the official distributor of Ester-C in Southeast Asia. "
Dr. Toto Imam Soeparmono Sp.OG.K.Onk, obstetrics and gynecology specialist and consultant oncologist (cancer), explains that cancer does not arise suddenly, but slowly so that the initial symptoms are often not visible. A new person feels the symptoms of cancer when cancer cells are sufficiently developed to disrupt certain organs. That is why early detection is highly recommended. How cancer detection is very diverse, depending on the type of cancer. For example, for colon cancer can be done with a colonoscopy of the examination of the rectum and colon organs by inserting a flexible long tube with light into the anus. Uterine cancer with Pap smear is the examination of sap or mucus around the cervix.
Action for people affected by cancer is to provide therapy. There are three types of therapy: primary, secondary, and complementary. Primary therapy by surgery or radiation aims to overcome the growth of cancer cells.
Secondary / advanced / additional therapy aims to complete treatment and limit the spread of cancer cells. Chemotherapy is a popular type of secondary therapy. But chemotherapy not only kills cancer cells but also healthy cells.
Chemotherapy patients will experience uncomfortable side effects and cause their quality of life to decline, namely: fatigue, pain or numbness in certain body parts, mouth or throat injuries, nausea and vomiting, decreased immunity, hair loss and even to the aspect psychological form of mood changes and despair. That's the chemotherapy dilemma facing cancer patients. The road to healing can be said to be so painful.
The oncologist (cancer) consultant who has more than 30 years of experience said, "To reduce the side effects of chemotherapy it can be done complementary or companion therapy, which aims to restore the quality of life is decreased due to side effects of chemotherapy. Complementary therapy can use herbs as long as it can be accounted for, meaning that the herb used should be clinically tested for its benefits and safety. "
Dr. Royke Eduard Burhan, a complementary therapeutic practitioner who is studying functional food, explains that Maitake mushroom extract can be used as a complementary cancer therapy because its benefits have been tested. Quoting the results of research Prof. Hiroaki Nanba Ph.D in the journal Maitake D Fraction: Healing and Preventive Potential for Cancer, Maitake proved to have 3 benefits:
1. Holding the spread of cancer cells
Maitake is able to inhibit the spread of cancer cells (metastatis) up to 91.3%.
2. Reduce the side effects of chemotherapy
Nausea, vomiting, loss of appetite, hair loss, white blood cell deficiency (leukopenia)
felt reduced by 90% of patients. Less pain is felt by 83% of patients.
3. Increase the effectiveness of chemotherapy.
Maitake and chemotherapy combinations can synergize and improve effectiveness
treatment 12-28%.
Meanwhile Prof.'s research Hiroaki Nanba also concluded that the Maitake mushroom inhibits the growth of breast cancer cells better than other fungi:
A. 1.5 times better than Shiitake mushrooms.
B. 12 times better than Karawatake mushrooms.
C. 16.5 times better than the Ling Zhi mushroom.
Even compared to Ling Zhi with a dose 50 times larger and Karawatake dose 300 times larger, Maitake effectiveness is still much better.
This advantage is because Maitake contains polysaccharide compound β-1,6 glucan as the main chain, while other fungi are generally β-1,3 glucan. This uniqueness makes Maitake more effective in activating the body's defense cells, including macrophages, natural killer cells and killer T cells, also has the potential to activate various immune system agents. In addition, Maitake has a D fraction capable of inhibiting oncogenes that can prevent the growth, division and migration of cancer cells. Doctor Royke emphasized, "Maitake mushrooms are safe to eat because it is a food mushroom."
According to Gunawan, there is to be considered to obtain maximum health benefits from Maitake mushrooms because not all Maitake mushrooms have the same quality. Vitacare Maitake Pro is made from quality Maitake mushrooms guaranteed quality because:
1. Originating from Japan which is the most ideal habitat for Maitake mushrooms.
2. Cultivated strictly; without chemical fertilizers, without pesticides, and guaranteed
cleanliness.
3. Without other mushroom mixture.
4. Formulated by renowned mushroom researcher from Japan, Prof. Hiroaki Nanba Ph.D.
5. It has been tested on human (human test).
Benefits of Maitake health supplement products from Multicare for cancer have been felt by many people. One of them is Dini Hendarsih from Surabaya. Thanks to consuming these products, Dini who underwent chemotherapy for ovarian cancer only briefly felt the side effects of the body limp and loss of appetite.
"After 2 days my condition gradually recovered, even doctors and friends say my situation is like a person who is not chemotherapy", said Mrs. Dini. The level of CA 125 which became an indicator of cancer fell drastically from 376.3 U / ml to 34 U / ml in less than 2 months. As the consumption of Maitake supplements continues, the CA 125 level improves to 7.72 U / ml which means it is very safe because it is well below 35 U / ml.
Commenting on this early experience, Dr. Toto asserted that improving the quality of life in cancer patients by reducing the side effects of chemotherapy is a very important factor in supporting healing. With increasing quality of life, cancer patients will have better fighting spirit and fighting cancer, and ultimately it can lead to healing.
Additional info on Vitacare Maitake Pro is that this product is not the first Maitake product to be marketed Multicare. Previously been marketed two variants of Maitake products namely Vitacare Super Maitake and Vitacare Super Maitake MD Fraction. Vitacare Maitake Pro is launched with a special formulation to improve the quality of life during cancer therapy.