Star of Fame, Jababeka's Effort to Appreciate the Contribution of Indonesian Film & Television Legends
By : Nata Kesuma | Monday, September 25 2023 - 09:32 IWST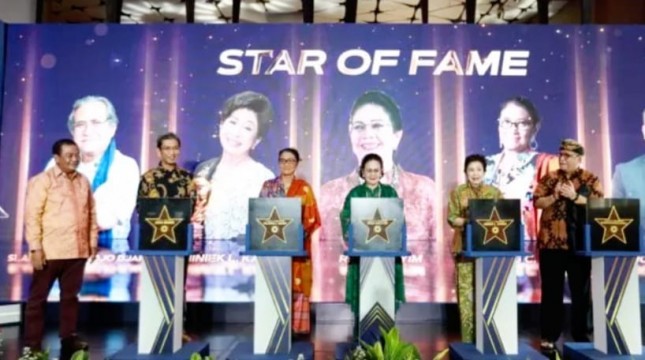 The inauguration of Jababeka Movieland
INDUSTRY.co.id - CIKARANG – The inauguration of Jababeka Movieland which was inaugurated by the Minister of Tourism and Creative Economy (Menparekraf) Sandiaga S Uno on Saturday (8/7) was a success.
From the event, there was a session that attracted the attention of guests, namely the celebration of the opening of the Star of fame curtain. The star of fame session itself is Jababeka's effort to give an appreciation to actors, actresses, and directors who have made Indonesia proud through their works in the country's film industry in the form of inscriptions. Where it will be installed on the Walk of Fame Hollywood Boulevard Jababeka.
Indonesian film and television figures are Jajang C. Noer, Slamet Rahardjo Djarot, Niniek L. Karim, Rina Hasyim and Joko Anwar, given by the Chairman of the Indonesian Film Board Gunawan Paggaru. According to Setyono Djuandi Darmono, founder and chairman of PT Jababeka Tbk, the five figures are people who have proven their commitment and dedication to the Indonesian film and television industry.
The count of their contribution and dedication is no longer decades we have felt, but their lifetime. It is proven that until now, their figures can always take roles in feature films and television in Indonesia.
Meanwhile, the Chairman of the Indonesian Film Board Mr. Gunawan Paggaru told about how until finally, he chose five figures as recipients of Star of fame from Jababeka Movieland. He said that "When I was asked to recommend names that needed to be appreciated by Jababeka Movieland, the consideration was to have achievements that could not be debated. And it is these five recipients that I think can be worthy of the Star of fame.
In the future, (I hope) today's event can be one of the triggers for other friends, that when they have achievements, there will be people appreciating those achievements. That's also one of our tasks actually. And, Jababeka Movieland's efforts, including lightening our duties. Therefore, I appreciate Jababeka's move."
Responding to the awarding of the star of fame, Slamet Rahardjo Djarot appreciated the steps taken by PT Jababeka Tbk which provides various facilities in the Jababeka Movieland Area. According to him, the step of appreciating Indonesian actors, actresses and directors through the Star of fame program is very good.
"Jababeka has provided extraordinary facilities. Plus, now there is Sandiaga Uno, our hero. But, it should be underlined, this is not Hollywood, this is Cikarang wood. Because I imitate Hollywood, it's a shame, but if it's inspired, it's okay. this will indeed be our village (our cinema): Cikarang," said Slamet Rahardjo Djarot.
The same thing was also conveyed by Rina Hasyim as a well-known senior Indonesian actress. On the podium he expressed his appreciation to Jababeka.
"Thank you, I'm still being cared for even though I'm 76 years old. And I hope that the Jababeka Movieland project can succeed," he concluded.