Minister of Tourism and Creative Economy Sandiaga Uno Inaugurates Jababeka Movieland in Jababeka City
By : Nata Kesuma | Friday, September 15 2023 - 08:10 IWST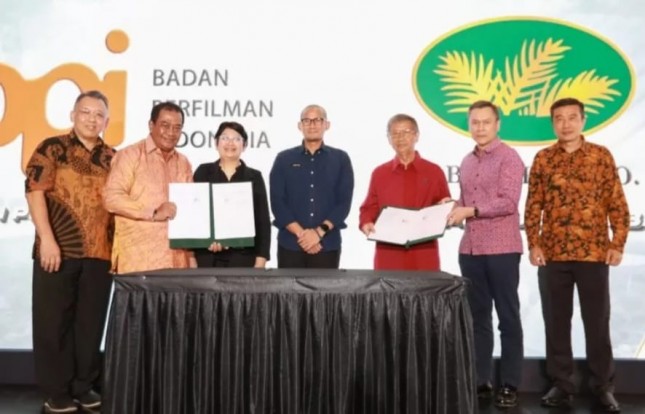 Minister of Tourism and Creative Economy Sandiaga Uno Inaugurates Jababeka Movieland
INDUSTRY.co.id -
CIKARANG – JABABEKA City Cikarang is the most complete modern independent city covering an area of 5,600 Ha with a population of around 1.2 million people.
Jababeka City is PT Jababeka Tbk's first independent city project that has developed from a green land into a community, consisting of industrial estates – for light-medium industry, beautiful residential and commercial areas with various leading facilities. Strategically located in the middle of the Bekasi – Cikampek corridor, Jababeka City can be accessed by toll road and train with a travel time of 45 minutes from Jakarta's business center.
PT Jababeka Tbk is still trying to develop the Jababeka City area. Most recently, Jababeka has inaugurated Jababeka Movieland, which was inaugurated by Sandiaga Uno Minister of Tourism and Creative Economy of the Republic of Indonesia. The inauguration ceremony was marked by the signing of an inscription, at the Movieland Building, Kota Jababeka, Saturday (8/7/2023).
Jababeka Movieland is a film and television industry area that Jababeka will develop on about 35 hectares where the vision is to provide all facilities for the needs of the Indonesian film and television industry. After laying the first stone on August 20, 2008, Jababeka Movieland is expected to become an integrated film and television industry center that provides all facilities for film study programs, film studios, and film theme parks, such as at Universal Studios – United States.
In the period 2008 to 2023, several buildings and facilities have been established that are used for the shooting needs of the Indonesian film industry, such as Elvis and Monroe Apartments, Ibis Style and Sunerra Antero Hotels, modern housing clusters The Oscar and Beverly Hills Pavilion Housing, Hollywood Junction commercial area, Rodeo Drive Shophouse, Hollywood Plaza, Movie Boulevard, Hollywood Boulevard Shophouse, and BPK Penabur School.
Now Jababeka Movieland has become the choice for the needs of the film industry, especially for Production House producers in making FTV (television films), big screens, soap operas, or advertisements. One of them is Jababeka Movieland which is the production place for a box office film titled "Foxtrot Six" which has aired in Indonesian cinemas.
According to Setyono Djuandi Darmono, founder and chairman of PT Jababeka Tbk, the existing buildings and facilities of Kota Jababeka can already help with shooting needs. Is it for the story's background that needs a background of urban places, offices, houses to rural areas? Because the ecosystem in Kota Jababeka is mature or complete facilities, it has become home to more than 2000 national and multinational companies from 30 countries and MSMEs.
"This inauguration is proof of our commitment to encourage the film and television industry in Indonesia," Darmono said, in his speech.
He added that Jababeka Movieland already has a complete setting for television production needs that are difficult to find in other areas or all-in-one places, namely hotels, houses, schools from kindergarten to university, rice fields, malls, hospitals, golf courses, recreational parks, culinary centers, green open land, and studios. So if film or television producers want to shoot FTV, soap operas, or big screens, they can come to Kota Jababeka because of its strategic location close to Jakarta and surrounded by accessible infrastructure.
"To make the film ecosystem at Jababeka Movieland more developed, President University is currently in the process of opening a film study program. So, I want it to be a place of learning as well as direct practice in making films or television," said the man who is the founder of President University.
Meanwhile, Sandiaga Salahuddin Uno as Minister of Tourism and Creative Economy of the Republic of Indonesia, expressed his appreciation to Jababeka for creating Jababeka Movieland to improve the film industry in Indonesia. This is because the Ministry of Tourism and Creative Economy of the Republic of Indonesia needs cross-sector cooperation, including private parties, in providing places or sets for shooting.
"Jababeka started the construction of Movieland 18 years ago and today it has a complete ecosystem of supporting facilities. Today Jababeka Movieland in Jababeka (City), I inaugurate it as the center of the film industry and a new tourism destination with a film base and creative industry including its 2000 factory outlets," said Sandiaga Uno
He added that the Ministry of Tourism and Creative Economy hopes that Jababeka Movieland will collaborate with local governments and film stakeholders as soon as possible. The goal is that Jababeka Movieland can develop, and its existence has a good impact on the film and television industry in Indonesia.
The inauguration of Jababeka Movieland was followed by four MoU signings, namely between (1) the State Film Production General Company (Perum PFN) with PT Jababeka Tbk, (2) the Indonesian Film Agency (BPI) with PT Jababeka Tbk, and (3) BPI with President University, (4) PFN with President University. Perum PFN was represented by Sutjiati Eka Tjandrasari Director of Production of the State Film Production General Company, BPI was represented by Gunawan Paggaru Chairman of BPI, Jababeka was represented by Budianto Liman President Director of PT Jababeka Tbk, and President University was represented by Prof. Dr. Chairy Rector of President University.
Not stopping there, this event continued with the presentation of awards and revealing stars of fame to artists or directors who have contributed in advancing the Indonesian film industry. The artists receiving this Star of fame are Jajang C. Noer, Slamet Rahardjo Djarot, Niniek L. Karim, Rina Hasyim, and Joko Anwar.
The event was attended by guests from various backgrounds. Also present were Professor Jony Haryanto Expert Staff of the Minister of Education, Culture, Research & Technology, Innovation, leaders from the West Java and Bekasi Regency Provincial Governments, leaders from Persatuan Karyawan Film & Televisi Indonesia, Indonesian Cinematographers Society, Suara Pro: Asosiasi Pelaku Suara Profesional Indonesia, IMPACT: Indonesia Motion Picture Audio Association, INAFEd: Indonesian Film Editors, Direksi PT Jababeka Tbk, artis, dan media (print, electronic, digital).