344,039 Community Organizations are in the Ministry of Home Affairs
By : Herry Barus And Aldo Bella Putra | Thursday, August 31 2017 - 13:00 IWST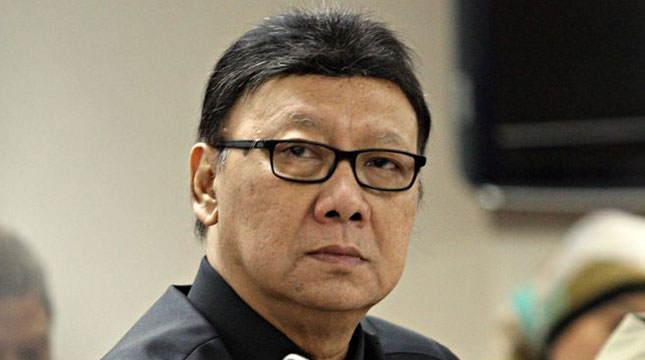 Menteri Dalam Negeri, Tjahjo Kumolo
INDUSTRY.co.id - Jakarta - Minister of Home Affairs Tjahjo Kumolo said the number of mass organizations recorded until July 2017 is about 344,039. And recorded in the Ministry of Home Affairs (Kemendagri) there are 370 mass organizations are not incorporated but in the form of registered certificate.
This was conveyed by Tjahjo when he became government representative in the Judicial Review Session of Government Regulation (Perppu) in lieu of Law no 2 of 2017 on the amendment of Law no 17 of 2013 on social organization in the Constitutional Court (MK), Wednesday (30/8/217) .
"In the foreign ministry there are 71 mass organizations created by foreign nationals. And in local government there are 7,226 non-legal organizations but in the form of registered certificate," said Tjahjo in his speech as dilansir Humas Kemendagri.
At Tjahjo District level there are about 14,890 mass organizations, in the Ministry of Justice and Human Rights are very large, there are 321,482 in the form of foundations and associations. "In Kemendagri itself we see the data with details, but in Kemenkumham there is a process that can be online and can be through a foundation / association or through a notary," he said.
The Minister of Home Affairs continues the development of the number of mass organizations that are so rapidly not balanced with the comprehensive arrangement that often leads to problems, both in terms of legality, accountability, service facilities, and empowerment to law enforcement issues.
"Whereas Law 17/2013 on mass organizations is very limited in terms of the definition of doctrine contrary to Pancasila and the 1945 Constitution, as in article 59 verse 4 mentioned contradictory teachings are limited to the problem of atheism, communism, marxism and leninism," he said.
The situation and conditions that exist today, HTI mass organizations have been clearly and openly openly in public to perform actions or actions that are willing to replace, change the foundation of Pancasila ideology or constitutional basis of the 1945 Constitution with the system of khilafah.
In a session that began at 11.00 am until 14.00 pm, the government represented by Home Affairs Minister, Tjahjo Kumolo and Menkumham, Yasonna Laoly provide evidence of 2-minute video cuts. HTI conference video is openly wanted to change the ideology of the nation with the system of khilafah.