Settlement of Landfire Case is Incorrect Address
By : Ridwan And Aldo Bella Putra | Saturday, September 02 2017 - 21:30 IWST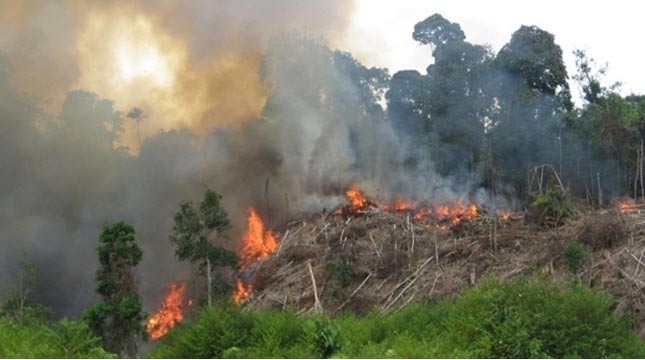 Kebakaran Hutan
INDUSTRY.co.id - Jakarta- Until now, land fires are still dominated by social issues in the community. Fires burning 4,600 hectares of savanna in Kupang due to the tradition of burning land for green grass for livestock and fires in a number of other areas on behalf of local wisdom should be a lesson for the government.
Chairman of the Indonesian Peat Association (HGI) Supiandi Sabiham warned the government needs to realize that there are a number of regulations that are wrong address that is linking fires with land issues, especially peat.
"Should be solved is a social problem that is how the state is present to help the welfare of the community so that fire issues can be resolved," said Supiandi to the media crew in Jakarta, Thursday (8/31/2017).
Supiandi reminded, the government should strictly enforce Law No. 32 of 2009 on Protection and Environmental Management which prohibits burning. The affirmation is in article 69 paragraph (1) letter h.
It is unfortunate that in paragraph 2 it contains a rubber article that opens the opportunity for burning in clearing land. "The provisions are set forth in paragraph (1) letter h which takes seriously local wisdom in their respective areas".
Supiandi argues if you want to continue to apply the local wisdom, the state should be present in supervising community activities. Malaysia also enforces local wisdom to open the land by burning.
However, the activity was reported and supervised by the state so that the fire did not spread and caused a fire.
"Imagine if there are a thousand heads of families then there are 2,000 ha of land burned and potentially a fire disaster resulting in the absence of government control and the ability of people to extinguish the fire," he said.
More unfortunate, when a disaster has occurred, the application of strict liability rules in Law 32/2009 is only imposed on one side i.e. the corporation. In fact, it should be the same responsibility to keep the concession.
A palm oil and HTI corporation's readiness to set fire-free villages should be an example that supervisory responsibility is on all sides.
"There are corporations, communities, local governments who work together to have a shared responsibility to prevent land fires," Supiandi said.
The criminal law expert of Muhammadiyah University of Jakarta (UMJ) Dr. Chaerul Huda said that understanding of responsibility is the continuation of the action. Absolute responsibility can be applied to corporations if the fire is caused by corporate activity and benefits the corporation.
"So that can be justified is the act," said Huda.
If the event is caused by another cause for example there are people who fish around the area of ​​corporate concessions and accidentally dropped cigarette butts so that this fire cannot be the responsibility of the corporation.
Misunderstanding also occurs when the fire from a community concession spreads to a corporate concession. On the one hand, corporations have struggled to extinguish fires, but due to various factors such as fires that result in corporate concessions being burned, it can not be attributed to absolute responsibility.
"The incident did not benefit the corporation, even losers due to burning concessions. We need to understand this understanding together. The government should not look for 'scapegoat' as if whoever does it, then it is automotically the responsibility of the corporation," said Huda