Jababeka Gives Appreciation to Pewarta In 'Jababeka Industrial Estate Writing Competition 2017'
By : Aldo Bella Putra | Saturday, July 22 2017 - 09:16 IWST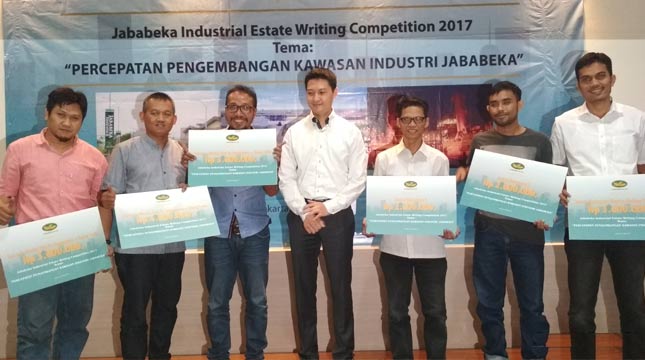 5166
INDUSTRY.co.id - PT Jababeka Tbk through its subsidiary PT Grahabuana Cikarang as residential and commercial sector manager in Jababeka Industrial Estate announced the winner of the competition writing Jababeka Industrial Estate Writing Competition 2017 in Jakarta, Wednesday (31/5/2017).
The competition was organized specifically for journalists and attended by 35 participants from 25 media newspapers, magazines, and online media on a national scale.
The assessment of the paper was conducted by an internal jury team from PT Grahabuana Cikarang and an external team independent of several journalists active in the mass media world.
All incoming articles are assessed on the basis of authenticity, understanding and appropriateness of themes, depth and improvisation of writing, as well as objectivity and article analysis. From the competition already held for the second time, it has been determined several categories of winners.
For the First Winner won by Rizki Yunus from the Jakarta Newspaper with writing entitled Infrastructure Mandiri in Industrial Estate. While the second champion was Imam Mudzakir from Investor Daily with the article entitled Peeping Biggest Industrial Area and Complete in Southeast Asia. For the third winner was Anton Chris from Koran Sindo under the title Adu Gengsi in Cikarang.
While for the online media category won by Nandi Nanti from INDUSTRY.co.id which succeeded in setting aside some paper online national media by sending three articles about Jababeka among others Jababeka Cikarang City, Cikal Bakal Vision 100 New Town In Indonesia; Spying on the World Independent City, Mahindra World City, Amata City and Jababeka City; And Jababeka, SD Darmono and 100 Kota Baru.
The journalists who won the competition got the prize and appreciation from Jababeka for the first prize winner of Rp5 million, Rp4 million for the second prize, and Rp3 million for the 3rd winner. In addition, all three are also given travel tickets to Singapore.
As for the category of online news, online media that contains the most news about the city of Jababeka won cash prize of Rp3 million. The delivery of prizes was done directly by the President Director of PT Grahabuana Cikarang Sutedja Sidarta Darmono in President Lounge of Batavia Tower.
On the occasion, Sutedja said, the area in the east is quite interesting and not limited, in the near future the plan will also launch housing at a price of Rp300 million in the region. In fact, Sutedja said, now the product has been sold out before in-launching even over-subcribed.
"I think the cake in the east is not limited to our neighbor project but there are still many other segments.In the near future, we will launch the residential Palm Residence.We launched at a price of 300 million.It is very interesting, where there is a house of 300 million And are in the region, Sutedja said.
PT. Graha Buana Cikarang is a subsidiary of PT Jababeka tbk, the company was established since 2010 and is engaged in Construction and Property industry.