HPN 2018, The Resurrection of the Press Gives a Positive Impact to Democracy Life
By : Herry Barus And Aldo Bella Putra | Monday, September 11 2017 - 16:00 IWST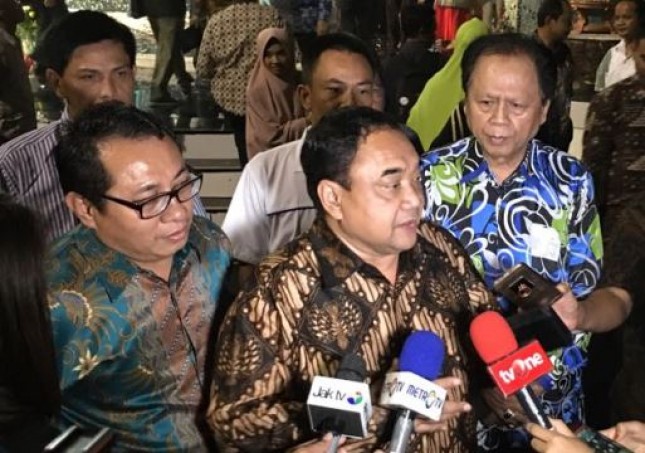 Ketua Umum PWI Pusat sekaligus penanggungjawab HPN 2018, Margiono
INDUSTRY.co.id -
Jakarta - Implementation of National Press Day (HPN) 2018 which will be centered in Padang West Sumatra on February 9, 2018 officially launched in TVRI Auditorium Jakarta, Sunday (10/09/2018).
With the Minang culture, the launching of HPN 2018 which was broadcast live on TVRI was attended by the Chairman of PWI Margiono Center, West Sumatra Governor Irwan Prayitno, Secretary of Ministry of Tourism, Ministry of Communications and Informatics, and various press organizations such as PWI, Pemred Forum, PRSSNI, SPS, United Siber Indonesia Society (SMSI) and several Constituents of the Press Council.
Chairman of the Central PWI and responsible for the 2018 HPN, Margiono asserted that National Press Day is not as a hura-rah event of the press, but it is a day of revival of the press that can have a positive impact on the life of democracy in Indonesia, as well as affecting the promotion and regional development host of the organizers.
"We have clear benchmarks for each region designated as host of HPN, usually seen within two or three years post-operation, if in those days there was no development progress in the area, we would likely again be the host" , he said.
Meanwhile, West Sumatera Governor Irwan Prayitno is grateful for the confidence of the press on the appointment of West Sumatra as the host of the 2018 HPN, and hopes that HPN's activities will have a positive impact on the promotion of tourism and tourism destinations in West Sumatra.
"The HPN will certainly be attended by hundreds or even thousands of journalists, both locally, nationally and abroad, and journalists who come to our region will certainly write a lot about West Sumatra, and West Sumatra will certainly shock the world," he said.
"Various tourism and cultural potentials in West Sumatra have been recognized world, both culinary, tourism and culture", he added.
Meanwhile, Secretary of the Ministry of Tourism, Ukus Kuswara hopes that the implementation of the 2018 HPN will have an impact on increasing tourist visits to West Sumatra, as well as supporting the tourism ministry program in the form of providing 30 thousand homestays by 2018.
"If building a hotel that takes a long time, but for the provision of honestay is effective and efficient, especially with the involvement of the community, so it can help improve the economy of society as well". He said.
According to the Homestay Village Tourism program from the Ministry of Tourism will be a new industry portfolio in the development of tourism amenitas in Indonesia.
"Our future dream of Indonesia will be the country with the largest homestay, the largest and best of the world, and the HPN activities we regard as an important moment, so that journalists participate in promoting tourism in Indonesia to the world, especially in West Sumatra."