GAIKINDO Continue International Series of Automotive Exhibitions in Surabaya
By : Hariyanto And Aldi Firhand. A | Thursday, September 14 2017 - 22:07 IWST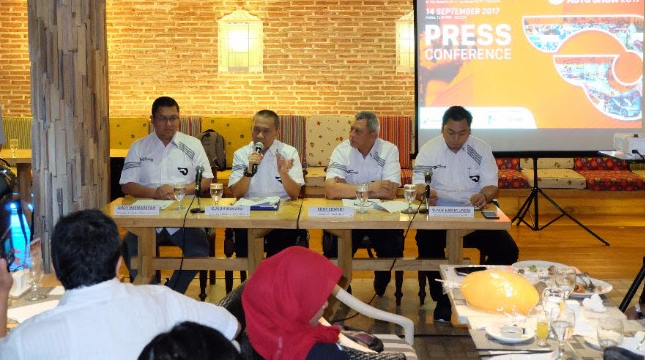 Press Conference GIIAS Surabaya Auto Show 2017
INDUSTRY.co.id - Surabaya - The Indonesian Automotive Industry Association (GAIKINDO) will continue the successful implementation of GIIAS while continuing its success for 2017 in Surabaya. GIIAS Surabaya Auto Show will be held on 20-24 September 2017 at Grand City Convex Surabaya.

"The GIIAS series opened in Makassar last May, continued at ICE BSD Tangerang, and now we will bring GIIAS back to Surabaya. We hope this exhibition can boost industrial growth in East Java, especially Surabaya, "said Kukuh Kumara, Secretary General of GAIKINDO, Thursday (14/09/2017).

GAIKINDO Indonesia International Auto Show (GIIAS) at ICE - BSD which has been successfully held on 10-20 August 2017 is believed to be one of the factors that give positive contribution to boost the national automotive industry. In the exhibition as many as 32 brands of motor vehicles members GAIKINDO.
GIIAS 2017 became the launching place of 3 world premier or world premiere launch, and 47 newest vehicle models are also displayed by GIIAS 2017 participants. GIIAS Surabaya Auto Show 2017 will also present most of the new cars.

Based on data GAIKINDO, vehicle sales throughout January-July 2017 reached 533 557 units. The figure is 0.3 percent higher than the same period last year.
Similarly, car sales in East Java experienced a slight increase. Although car sales performance in East Java during the first semester of 2017 reached 64,000 units, growing 2.7% over the same period last year, Gaikindo is optimistic that sales will increase in the second semester. This is marked by the declining government budget for infrastructure projects, so the economy will move.

Kukuh explained that the growth of motor vehicle sales to date is still concentrated in Java. The domestic sales trend of motor vehicles has shifted to the developing provinces, no longer concentrated in DKI Jakarta. One of the reasons is the restriction of motorized vehicles both wheel and two wheel in the streets of protocol in Jakarta.

According to him, the number of car sales in West Java reached 207,000 units last year. Meanwhile, DKI Jakarta reached 203,000 units followed by several other provinces in Java Island.
"Until the first half of this year, East Java is still ranked third in the national automotive sales. There was a 68% increase in sales. The existence of GIIAS Surabaya will continue to solidify the position of East Java, "said Kukuh.